Thomas E. Stayton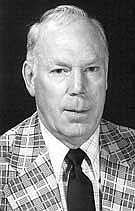 |
December 3, 2008 11:00 PM
Thomas E. Stayton, 81, of Libby died Dec. 2, 2008 at St. John's Lutheran Hospital in Libby.
He was born Oct. 19, 1927 in Argus, Ind., to Thomas and Anna Florence Stayton. He was raised in Grandview, Wash., where he graduated from high school in 1945.
After serving in the U.S. Army, he received his Bachelor of Arts in Education from Eastern Washington University and a Master's degree from the University of Montana. He moved to Great Falls for his first teaching job, where he married his wife of 58 years, R. Nadine Stayton.
They eventually settled in Libby where they raised their family. He served 28 years in the Libby School District as a teacher and elementary principal. During his time in Libby, he touched the lives of many children, his fellow educators, and became an integral part of the community.
After his retirement in 1981, the couple spent their free time golfing, gardening, woodworking and traveling. He particularly enjoyed the beauty of the outdoors in the area surrounding Libby.
Mr. Stayton is survived by his wife, Nadine; their two children, daughter, Jeanne Crawford of Libby, and son, Daniel and his wife Sandy Stayton of San Diego, Calif.; three grandchildren; and two great-grandchildren.
Services will be held at the First Presbyterian Church in Libby on Friday, Dec. 5 at
1 p.m. A reception at the church will follow services.
In lieu of flowers, donations can be made to St. John's Lutheran Hospital Foundation, the VFW Building Fund or the First Presbyterian Church of Libby.
---