Libby wrestlers prepare to open season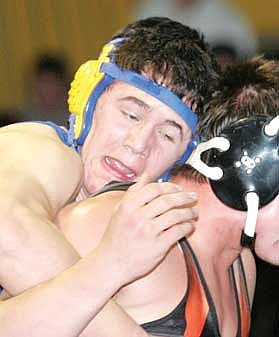 File/The Western News Justin Graham moves up from 189 to 215.
by
Brad Fuqua & Western News
|
December 1, 2008 11:00 PM
When the Libby High School wrestling squad takes the mat on Saturday at home against Ronan, the Logger lineup will feature a lot of young faces among the lighter weights and returning state qualifiers at three of the four heaviest weights.
Veteran coach Jay Graham plans to wrestle Seth Wright at 171, his son, Justin Graham at 215, and Brandin Mills at heavyweight. Both Wright and Graham moved up in weight class and all three hope to reach new heights during their senior seasons.
"We'll be pretty solid in the upper weights," said Coach Graham, who has headed up the Logger wrestling program all but one season since 1990. "Most of those kids have been on the varsity one or two years."
Justin Graham had the highest individual placing for the Loggers at last season's Class A State Wrestling Tournament. Grappling at 189 pounds, Graham won four of five matches to finish third. His lone loss came in the semifinals to eventual champion Beau Melby of Sidney.
Wright placed fourth by winning three of five matches at 152 pounds. He will jump up two weight classifications this season. Mills placed sixth last year at state with a 3-2 record in the heavyweight division and he returns for another shot this season.
As a team, the Loggers placed 11th in Class A. The only other wrestler to win a medal was senior Steve Gary, who took fifth at 160 pounds.
"We've got a lot of numbers … we had about 45 that we've been pushing pretty hard in practice," Coach Graham said about the program early last week. "I think we've lost about eight already."
It's not unusual to lose a number of students early on in practice. Coach Graham expected to stage "challenge matches" prior to the opener to determine the final varsity lineup.
 "We've got some good, young kids … a good group of freshmen," Graham said. "We haven't had our challenges, so we don't know who is going at what weight."
The Loggers will be at a disadvantage when it comes to dual matches. Graham said Libby would probably forfeit at both 105 and 112 with a lack of varsity wrestlers in those two weight classes. The Loggers appear to have a good prospect at 98 pounds.
"From 119 on up, we should have good kids," Graham said. "It's hard to tell until we get into competition."
Three wrestlers from Troy High School had expressed an interest in the sport but as of early last week, only one was part of the program.
Beyond the three seniors that placed at state last season, Coach Graham was hesitant to name any other possible varsity wrestlers because those challenge matches had not yet occurred.
Because of the rare occurrence of the football team failing to make the playoffs, many athletes who compete in both sports had extra time in between seasons. Coach Graham didn't necessarily see that as a positive.
"We've had such a good football program that they usually only have two or three days off," he said. "This year, we had a little bit more time off so they weren't in good as shape as they thought they were in. We remedied that real fast. We push them hard right from the get-go."
Wrestling teams from the western half of Montana have a strong tradition of excellence on the mat. Havre is the defending Class A champion and didn't lose a whole lot.
"Unless the wheels really fall off, they pretty much should have A locked up," Graham said.
Ronan is another top team and finished runner-up to Havre last year at state. The Loggers will be tested right away when Ronan pays a visit to Libby on Saturday.
One advantage for the Loggers will come with the arrival of divisionals. Libby will host the divisional tournament this season.
Graham likes the schedule.
"Our schedule works pretty good … our best kids will get as good as competition as anywhere," Graham said. "Our younger kids will also have a chance to compete."
One of the biggest tournaments arrives Jan. 16-17 when more than 20 schools gather in Missoula for the Rocky Mountain Invitational. Tournaments at Superior and Eureka are on the pre-Christmas schedule and the Loggers will participate in dual tourneys at Ronan and Belgrade.
---