Blaze scorches Libby home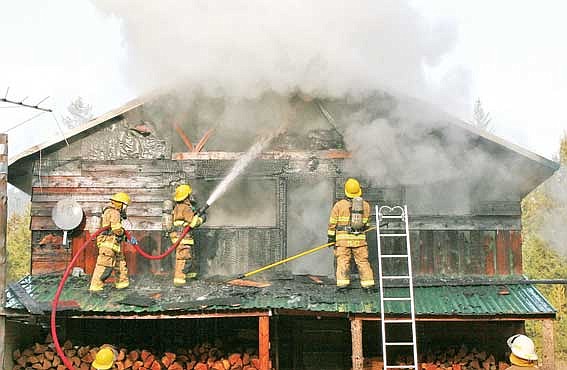 Paul Sievers/The Western News Libby firefighters work on the house fire on Lodgepole Way early last week. The blaze's cause is under investigation.
|
December 1, 2008 11:00 PM
The Western News
Fire scorched the Libby home of a 74-year-old woman who was out of town visiting family for Thanksgiving.
The Libby Volunteer Fire Department responded on the afternoon of Monday, Nov. 24 to a report of a blaze at the home of Becky Krebs at 63 Lodgepole Way. The fire department had 22 people involved with the call. Two water tenders, one structure engine and a command center vehicle were all on scene.
A neighbor called in a report of the fire at 1:19 p.m. Lodgepole Way is located off Pipe Creek Road. No occupants were in the 39-year-old home with Krebs visiting a son in Virginia.
Besides the fire department, Libby Ambulance also responded along with Flathead Electric to cut the power.
By the time firefighters arrived on scene, the house was termed as a "fully-involved structure" – fire department lingo for a home with visible flames. A van parked underneath an adjoining carport was moved and saved.
The home sustained serious damage. The fire department left the scene at 3:52 p.m., more than 2 1/2 hours after receiving the initial call.
The cause of the fire is under investigation.
---