Loggers rout Polson, Columbia Falls up next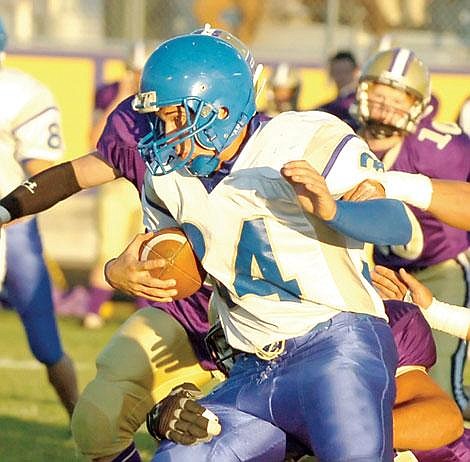 Loggers rout Polson, Columbia Falls up next
|
September 28, 2007 12:00 AM
The Loggers opened up conference play with a convincing win on the road at Polson last Friday. After a close first half of football, that was shaky at times, they went into the locker room leading 15-7.
The coaches' pep talk seemed to make a difference as after the half the Loggers came out to take control and ran away with the game to win it 41-7.
Zack Rowan, demonstrating his amazing athleticism, opened the second half taking the kickoff 90 yards to paydirt for a touchdown. He is a scoring threat anytime he touches the football.
With other teams now keying on Rowan, Loran Nelson stepped up yet another week with a stellar performance having seven catches for 150 yards, including a catch and run for a touchdown that covered 63 yards in the third quarter.
Jeremy Chumley was reliable as always by grinding out 108 yards rushing on 26 carries. He punched in four touchdowns for the Loggers, all on two yard runs or less. His massive bulk coupled with speed makes like a freight train for opponents to try and stop.
Quarterback Joel Fuller had another solid game for the Loggers as he rushed for 47 yards on 9 carries. He also completed 14 of 24 passes for 207 yards with one touchdown thrown to Nelson and only two interceptions.
Much of the credit has to go to the linemen who battle it out in the trenches all night long. These young men anchored by Josh Chumley, Jordan Gragert and Matt Schad controlled the line of scrimmage on both sides of the ball. They helped keep Polson quarterback Craig Bagnell and Polson runningback Cody Doyle well below their season averages.
Nelson and Rowan each had interceptions also. Nelson returned his pick about 25 yards and looked like he was going to take it to the house for another score when he was knocked out of bounds at the 1-foot line.
As with most of the games this season, coach Neal Fuller was able to give a lot of playing time in the fourth quarter to substitutes while resting most of his starters.
Tonight the 4-0 Loggers are on the road again to Columbia Falls. This could be the toughest contest to date as the 3-1 Wildcats have been playing solid football with their only loss coming to a powerful Butte Central team. Logger defense stands to be tested by Wildcat runningback Josh Wilson, one of the leading rushers in the coference and in the state. It may very well come down to which team commits the fewest penalties and whic team demonstrates the greater ball security while avoiding turnovers. It's a game that all Logger fans won't want to miss.
---