Lady Loggers head to Columbia Falls, look to keep victory going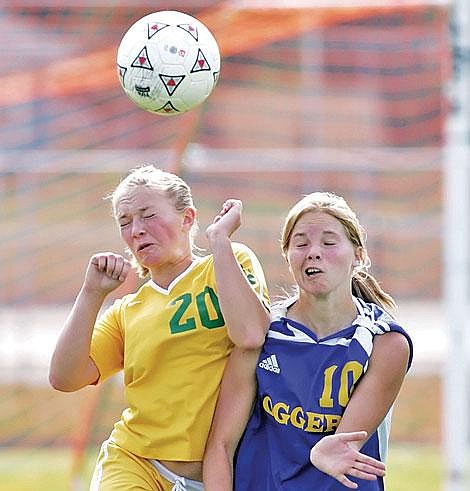 Lady Loggers head to Columbia Falls, look to keep victory going
|
September 28, 2007 12:00 AM
The Loggers had an amazing 1-0 home victory over the Whitefish Bulldogs on Saturday, Sept. 22. This is the first victory over the Bulldogs in recent memory, if ever.
The Loggers came out strong and controlled the first 20 minutes, creating several close chances. The Bulldogs came back to challenge in the last 20 minutes of the first half, resulting in a very evenly matched game.
The Loggers came out a little bit slower in the second half, but Jaime Gilden turned the intensity up in the 45th with an astonishing shot from outside of the 18-yard box that floated over the keeper's head and into the back of the net.
The game continued to be evenly matched and hard fought right up until the final whistle.
Midfielders Lindsey Kehn and Ashley VanHoose made several integral runs up the sidelines to aid the Logger attack. Logger goalkeeper Audra Poppen had astounding game.
She had 11 key saves, including an incredible one from a Bulldog corner kick. Trista Berget, Rachael Sweedman, Mechelle Wilson, and Quinn Wilson made up the strong back line for the Loggers, stopping several Bulldog attacks. Mechelle Wilson cleared one off of the goal line to save a goal.
The Vals came out strong and quick, scoring in the 5th minute during the 4-3 away victory over the Bigfork Valkaries on Thursday, Sept. 20. But the Loggers stepped it up, and the game continued to be evenly matched.
Logger Kaila Forster tied the score at one three minutes before half time from an assist by Anna Valentine.
The Vals once again came out strong in the second half, scoring in the 45th minute to once again take the lead. But the Loggers came back 10 minutes later with Anna Valentine scoring a remarkable header off a corner kick by Jaime Gilden.
The Loggers took the lead five minutes later with Jaime Gilden scoring a penalty kick.
Unfortunately the Vals came back in the 75th minute to tie it up at three. But the Loggers didn't give up, and Kaila Forster broke through the Vals' defense two minutes later to secure the Logger victory.
The Loggers ended the game with seven shots, eight saves, and four corner kicks.
~ By Kelly Zwang
---