Libby Logger Cross Country results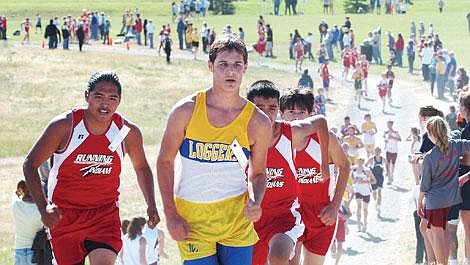 Libby Logger Cross Country results
|
September 21, 2007 12:00 AM
Kalispell Invite Sept. 8
The team had some rust to knock off after a rough start. They entered into the junior varsity division at the Giant Kalispell Invitational. At one count there were over 20 schools at this meet, with runner numbers in the hundreds. In the JV girls race the team of Shantell McLinden 23:21, Rachel Morrow 23:44, Ariel Wooden 26:20, Cassi Moog 26:03, Sami Freebury 26:58, Arial Hubbard 27:01, Brandi Mirador 29:05 and Brittany Steele who had to drop out with a knee injury, took 9th out of 19 teams.
The boys ran in the JV race as well. Although missing two of the top boys runners on the team they still competed nicely with a finish of 14 out of 20 teams. Kyle Sweedman ran a 20:03 on the hilly, dusty Kalispell course, followed by Cody Elliott with a 21:38, followed by Hunter Sheffield with a 21:52, Senior Chris Beeks 22:26, newcomer David Combs recording a 22:40 in his first race, Ben Elliott with a 22:50, and another newcomer Trevar Sheasby with a 22:58.
"Overall I was happy with the team's overall improvement, and we had a fun afternoon," said coach Jasper Howell. "The kids got to see some amazing runners and felt that feeling of a large race."
Ronan Invite Sept. 13
At this Thursday afternoon meet at the beautiful Silver Fox Golf course in Pablo the team had a great day. Running again as a JV team the boys won the JV division with Seth Wright and Brandon Puckett (18:24) tied for first as they finished simultaneously. Kyle Sweedman finished 9th with a time of 19:48, and Ben Elliott improved his time by almost three minutes with a finish time of 20:04 good for 15th, followed by brother Cody Elliott with a time of 20:39 and 20th place, Hunter Sheffield (21:22) edged out teammate Chris Beeks (21:22) for 25th, and David Combs followed with a 30th place time of 22:27. Trevar Sheasby ran his final race and running with what would later be diagnosed as stress fractures in his foot gutted out a 26:14 good for 42nd.
"It was cool for the kids to feel what it was like to win a meet," Howell said.
Libby beat the Columbia falls JV team by 8 team points with a 47 to Columbia Falls' 55. The team will move up and race Varsity at the Farragut Invitational on Sept. 22.
The girls ran for a third place finish in the JV division. Shantell McLinden paced her team with a 5th place time of 22:27, followed by Rachel Morrow at 10th with a 22:59. Ariel Wooden (17th) improved to 24:54, and Cassie Moog (18th) dropped over a minute as well finishing with a 24:59. Sami Freebury improved her time by exactly one minute with a finish of 25:58. Arial Hubbard finished 29th with a 27:10 and Brandi Mirador followed with a 27:36 and 30th place.
"I was very happy with their improvement," Howell added. "The girls saw improvements of a minute on average in one week which is phenomenal. The hard work in practice is paying off."
Eureka Invite (dual) Sept. 18
On a rainy chilly evening the Libby Loggers went to Eureka to battle for Lincoln County bragging rights. What Neil Longhurst had hoped to make an invitational with many local teams became a dual between Libby and Eureka. Libby battled to a draw with the Libby boys claiming a convincing victory in the boys race, and the girls getting edged out by the Eureka girls. The course was ran on Indian Springs Ranch north of Eureka, which is in the process of becoming a golf course. The course was a challenging course with lots of hills on a variety of surfaces. In the boys race, Seth Wright took 1st, Brandon Puckett took 3rd, Kyle Sweedman took 4th, Cody Elliott placed 5th, Hunter Sheffield took 6th, Chris Beeks placed 8th, David Combs placed 10th and Ben Elliott took 12th place.
In the girls race, which only featured four libby girls, Shantell McLinden took 2nd, Rachel Morrow 3rd, Cassi Moog 7th, and Ariel Wooden 8th.
The Libby Loggers will compete on Saturday in Farragut, Idaho in a 5 K race.
By Jasper Howell
---