Libby downs Bigfork, takes Polson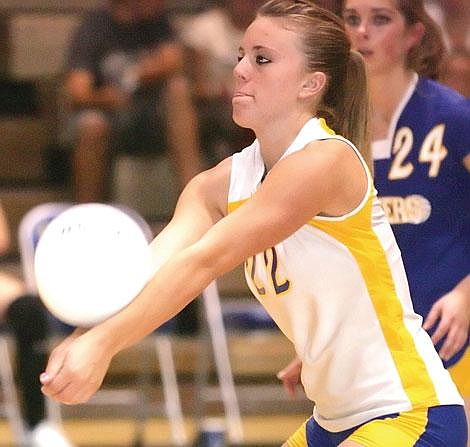 Libby downs Bigfork, takes Polson
by
Hagadone News Network
|
September 19, 2007 12:00 AM
The Libby Loggers found out a little something about their volleyball team Thursday night.
They discovered how they react when conditions aren't perfect — and the news is good for Logger fans.
Libby (1-0) downed host Bigfork 25-11, 25-18 and 25-22 to pick up its first Northwestern A conference win.
One would never have known how the match was going by looking at the Logger faces. They might have been up by 20 points or facing match point.
For the record, they spent a sizeable portion of the evening trailing the Valkyries.
"We haven't practiced well all week. I think that kind of set the tone for this match, said Libby coach Cindy Ostrem-Johnston.
"This is a tough gym to play in with the beams, the lights are blaring, they get a little uptight.
"But they are also a mature enough group this year that they can settle themselves down and work their way back in."
"I was proud of our team for being able to keep their composure and come back from being behind several times," she added.
"We got through it. We could have just fallen apart and just given up — and they didn't do that."
Libby trailed Bigfork each of the first two games. The deficit was small in the first game — 9-7. But in the second, the Vals leaped ahead.
The Loggers made their run in the first game when the Vals' 6-foot-2 middle hitter Alyssa Fierro rotated to the back row.
"It's tough when she's in the front row," Ostrem-Johnston said. "She just hits right over the top of our blocks, whereever she wants to."
Libby took advantage of her absence up front with tough serves by sophomore Jackie Mee.
"(Fierro) hits hard. She blocks a lot of our stuff and she hits straight down," Mee said.
"When she got into the back row we tried to stay in our rotation and the first game we did," Mee said.
By the time Mee served into the net, Libby owned an 18-9 lead. They were down 0-8 in the beginning of the second game, Ostrem-Johnston said.
"We kept our composure and played through it," Ostrem-Johnston added. "We fought back."
But the second game was another story.
The Vals played virtually mistake-free volleyball — and got kills from everyone. Fierro had two kills and a block, Emily Hardman smacked a shot cross court and setter Claire Wilken even got into the action.
"We were slow getting to the ball and everything," Mee said.
"We stopped and said, 'okay, we're going to come back now and we started playing,'" she said.
Mee led the Loggers with eight kills and seven service aces. Brooke Hageness added seven kills, Shelby Barton had 21 assists and Megan Wedel had 11 digs.
Libby def. Bigfork 25-11, 25-18, 25-22
Kills — Libby 29 (Jackie Mee 8, Brooke Hageness 7), Bigfork 16 (Alyssa Fierro 8), Assists — Libby 26 (Shelby Barton 21), Bigfork 16 (Ashlee Gordon 11, Claire Wilken 5. Blocks — Libby 4 (Kirstie Roby 2), Bigfork 4 (Fierro 4), Digs — Libby 32 (Megan Wedel 11, Laice Dedrick 7), Bigfork 21 (Roxy Thurman 9), Aces — Libby 14 (Mee 7), Bigfork 5 (Gordon 3).
Libby defeated Polson during the Saturday game in Libby scoring 25-10, 26-24 and 25-11.
Hagness had 7 of the 22 aces in the game and Wedel and Mee each had 4 aces. The team had a serving percentage of 86 and Mee had an outstanding 94 serving percentage, Ostrem-Johnston said. The girls made 30 kills, with Hagness and Mee each adding 8 kills. Dedrick had 4 kills, with a 444 attack percentage. The team had a 328 attack percentage.
Barton added 23 assists to the team total of 28. Mee made the team total of 3 blocks. Wedel and Dedrick each added 6 digs to the 22 for the Libby team. The team had a serve receive ration of 2.14. Mee had a 3.0 serve receive ration out of 3.0. Hagness had a 2.5.
The freshman and JV team played Troy on Tuesday. Friday the Lady Loggers will be in Columbia Falls and Saturday the team will host Whitefish.
"We're going to have lots of practice this week," Ostrem-Johnston said. "We'll play two tough matches this week with stronger teams. Whitefish still has a strong team even though they graduated six players last year. We need to be focused and ready to play."
---