Libby court finds Arlee man guilty in assault charge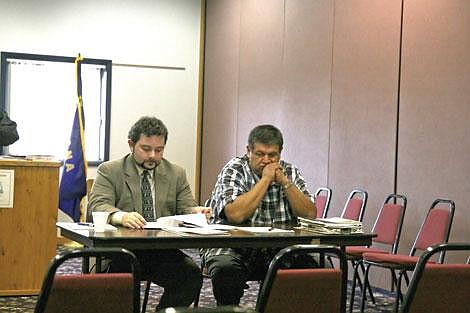 Libby court finds Arlee man guilty in assault charge
by
Erika Kirsch Western News Editor
|
September 19, 2007 12:00 AM
An Arlee man was found guilty on Friday of assault on a sports official in Libby Justice Court.
Francis Lavern Pierre was found guilty by a jury of six Libby residents of hitting his son's former head basketball coach Brandon Hobbs following a game in the District 8-B boys' basketball tournament in Libby on Feb. 16, 2007. Pierre was also charged with disorderly conduct at the time of his arrest following the incident, according to court documents. Pierre was found not guilty of disorderly conduct on Friday.
Pierre admitted to hitting Hobbs, but said the punch was due partly what he perceived as a verbal attack by the coach against his son during Arlee's 63-60 loss to Superior. Pierre said the coach used "foul, cursing and naughty language" toward his son.
Hobbs testified Friday in court and told the court Pierre's son, Richard, was not a regular on the varsity team and played on the junior varsity team. However, Hobbs brought Richard to the tournament because he had been playing well on the JV team. Richard did not play during the tournament and had been "saying some negative things giving me dirty looks and saying things to players on the floor and I said unless you want to say something positive go to the locker room," Hobbs said.
Hobbs testified that following the game he went to the locker room area and was speaking to one of the Superior basketball team players. He had his clipboard and briefcase in his hands and went toward the locker room door. When Hobbs came to the locker room door, Pierre "scooted in front" of Hobbs. Hobbs put his head down to try to move around Pierre and then he was "sucker-punched," he said. The impact pushed Hobbs back when he fell into a doorframe or the wall, which caused a 3-inch laceration, requiring two staples, Hobbs explained. Hobbs said up to that point no words had been exchanged.
"I never said anything," Hobbs continued. "I never instigated anything in my life and that's the last thing I would do."
Hobbs then left the locker room area and went to the scorekeeper's table to get help.
Pierre said he was upset about the way his son was treated during the game. After the game, Pierre, who attends most practices and games, went to his son who "was visibly upset" and asked Richard what had happened. Pierre testified that outside of the locker room Hobbs shoved him and said "excuse me," and Pierre reacted by punching him. Pierre stated he struck Hobbs because of the disrespect shown toward his son.
"I'm a single parent and I will protect and probably over protect him," Pierre said of his son.
"After I hit [Hobbs] I felt so bad that I followed him out to the court," Pierre said.
Libby High School Principal Rik Rewerts was on the court floor when the two men came onto the floor. Rewerts stood between the two men and no physical contact was made between the two men once on the gym floor, Rewerts testified. Pierre admitted to hitting Hobbs while Rewerts was presented, Rewerts said.
Libby police officers responded to the scene and Pierre was arrested.
Charles Evans, the attorney for the city of Libby, asked Pierre if he thought he overreacted to his son's not being able to play in the tournament by punching Hobbs.
"It had nothing to do with my son's playing ability," Pierre retorted.
"Why were you so upset?" Evans asked.
"I saw my son being verbally abused," Pierre answered. "I don't believe it's right for a coach to do that."
Pierre explained that prior to the incident, he had met with the Arlee athletic director regarding an alleged racial slur made by Hobbs to Pierre's son and Pierre asked why Richard had been placed on the JV team rather than the varsity team, Pierre testified.
Hobbs told the athletic director that he did not recall making a racial slur toward Richard.
"I never made a comment about race," Hobbs testified. "I substitute teach and coach on a reservation. The AD never pursued it because there was nothing to it."
Evans commended Pierre for the interest he conveyed in his son's sporting events, but "he's gone too far," Evans said about Pierre's actions.
Pierre will be sentenced for assault on a sports official on Sept. 26.
---