Libby takes the Tip Off Tourney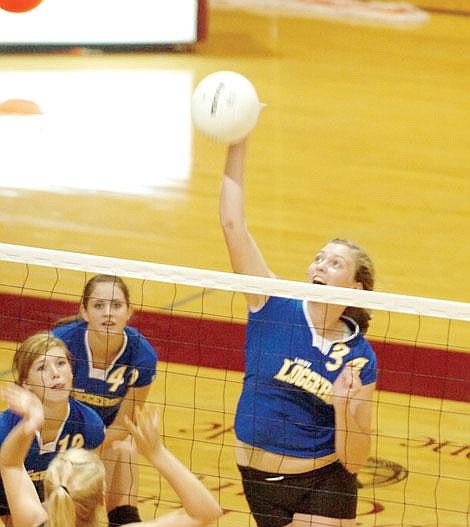 Libby takes the Tip Off Tourney
|
September 14, 2007 12:00 AM
The Libby Loggers volleyball attended the Tip Off Tournament in Hamilton on Sept. 7-8 and swept the competition.
There were 12 teams present from the Northwest and Southwest A divisions. Tournament teams participated in pool play and played two games to 18.
Libby played their first game against Dillon, winning 18-10 and 18-15. Libby then played Frenchtown, winning with scores of 18-6 and 18-13. Hamilton lost against Libby with scores of 18-8 and 18-10. Libby beat Corvallis with scores of 18-9 and 18-17. Stevensville lost to Libby with scores of 18-7 and 18-10. Anaconda was the next team to lose to Libby with scores of 18-12 and 18-11.
The top three teams in each pool then went on to the championship. Teams played two games to 21 and if a third game was necessary, it was played to 18.
Libby played against Dillon in the first championship game, with Libby winning 21-18 and 21-17. Whitefish was next and they beat Libby in the first game with a score of 22-20. However, Libby came back in the next two games against Whitefish with a score of 21-16 and 18-16.
Throughout the tournament, the team bagged 48 aces and had a serving percentage of 85. Crysta Quinn had 10 aces and Brooke Hageness and Megan Wedel each had 8 aces.
The team also pulled together to achieve 161 kills, with Jackie Mee making 61 of those kills.
"She had an outstanding attack percentage," said Libby volleyball coach Cindy Ostrem-Johnston. "She had a 425 attack percentage."
Hageness had 30 kills and a 214 attack percentage. Laice Dedrick had 29 kills. Nichole Newman had 14 kills and a 268 attack percentage. The team attack percentage was 274, Ostrem-Johnston said.
The Libby Loggers made 120 assists throughout the tournament, with Shelby Barton completing 111 assists. The team came away with 7 blocks and Mee made 4 of those blocks. Of the 132 digs made during the tournament, Hageness and Wedel each made 31, Dedrick had 22, Barton made 16 and Quinn made 15.
"The girls passed pretty consistently. They had a 2.49 serve receive ratio out of 3," Ostrem-Johnston added.
Dedrick had a 2.58 serve receive ration, Hageness had a 2.54 serve receive ratio and Wedel had a 2.46 serve receive ratio.
"We had a good showing from those kids," Ostrem-Johnston continued. "There were a couple dips, but they played pretty consistently. It was a great tournament.
"It showed they were ready to compete and they kept their composure and found a way to win," Ostrem-Johnston said.
The next Libby volleyball matchup is against Bigfork on Thursday in Bigfork and a home game against Polson on Saturday.
---