Lady Loggers tie with Columbia Falls at home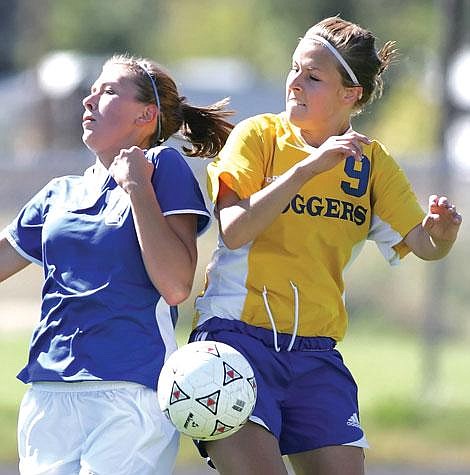 Lady Loggers tie with Columbia Falls at home
|
September 12, 2007 12:00 AM
The Lady Logger Soccer team completed their final non-conference game with an away 6-0 victory over the Bonners Ferry Badgers.
Kaila Forster opened up the scoring for the Loggers in the 5th minute with an assist by Jessica Shaw. Jaime Gilden scored in the 35th minute with assists by Ashley Shaw and Lindsey Kehn. Paige Ward added to the Logger tally three minutes later with an assist from Jaime Gilden. Larona Luscher ended the first half on a high note for the Loggers with a goal from an assist by Paige Ward.
Jaime Gilden opened the scoring in the second half with a goal off an assist from Jessica Shaw in the 55th minute. Gilden scored again fourteen minutes later to seal the victory for the Loggers and earning herself a hat-trick. Goalkeepers Audra Poppen and Kaila Forster had three saves each; and Brittany Martin, in her first game back from injury, took two shots.
The Loggers opened their first conference game of the season with a 2-2 tie against the Columbia Falls Wildcats. Jaime Gilden opened the scoring with a goal from the edge of the 18-yard box off of a ricochet from her own corner kick in the 7th minute. The Loggers continued to control the game, but a moment of uncharacteristic confusion in the defense allowed Wildcat Elena Potter to score in the 24th minute.
The Loggers went ahead again in the second half, when Jaime Gilden scored on a penalty kick in the 68th minute. The Loggers once again continued to control the game, but the Wildcats slipped through and Jamie Valov scored to tie the game with an assist by Kassi Hebert in the 78th minute. The Loggers racked up seven shots and earned six corner kicks. Logger keeper Audra Poppen ended the game with four saves, and Quinn Wilson, Trista Berget, Rachael Sweedman, and Nickole Lapka created an exceptionally strong back line.
Libby 1, 1 - 2
Columbia Falls 1, 1 - 2
L: Jamie Gilden 7:00
CF: Alena Potter 24:00
L: Gilden (penalty kick) 58:00
CF: Jamie Valov (Kassi Hebert) 78:00
Shots on goal: Libby 7, Columbia Falls 3
Corner kicks: Libby 6, Columbia Falls 2
Saves: Libby 4 (Audra Poppen 4). Columbia Falls 6 (Colyne Hislop 6).
Total fouls: Libby 9, Columbia Falls 4.
Yellow cards: none
Red cards: none
~ By Kelly Zwang
---