Libby's Watson medals at Meadow Lake course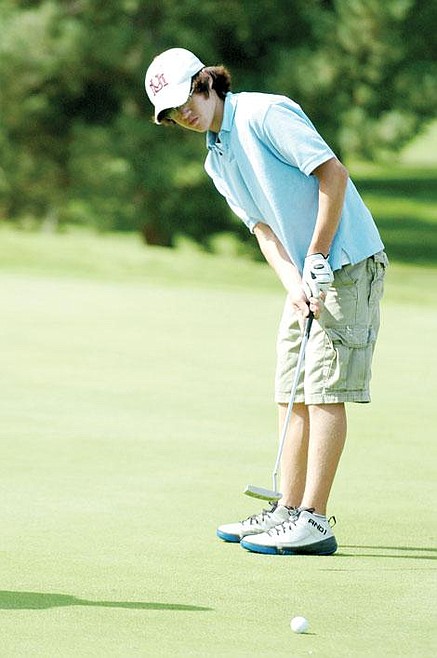 Libby's Watson medals at Meadow Lake course
by
Hagadone News Network
|
September 7, 2007 12:00 AM
Sophomore Zach Watson of Libby shot a 77 Tuesday for medalist honors at the Columbia Falls Triangular at Meadow Lake Golf Course.
Libby's Jim Mee was second with an 81.
The Loggers shot 348 as a team, more than 20 strokes better than second-place Ronan, at 369. The Columbia Falls Blue team was third at 370.
In girls' play, BreAnna Cameron of Whitefish was an easy winner with an 89. Ronan's Katy Sorrell was second with a 99.
"It was fun to host another tournament on Meadow Lake," said Columbia Falls coach Gene Marcille.
"All the kids enjoy the challenge our golf course provides."
Whitefish placed four girls among the top 10 to easily claim team honors. As a team, the Bulldogs shot 445. Libby was second at 496 and Columbia Falls third at 552.
"It's great having girls who are starting to get tournament ready," Marcille said. "Even though they're young, we have high hopes for them."
Columbia Falls heads to Libby Saturday for a tournament at the Cabinet View Country Club.
"We're looking forward to seeing their new nine holes. We hear it's tough and we're looking forward to it," Marcille said.
Team scores
Boys: Libby 348, Ronan 369, Columbia Falls Blue 370, Whitefish 379, Columbia Falls White 422.
1. Zach Watson, Libby, 77.
2. Jim Mee, Libby, 81.
3. Micah Lee, Ronan, 83.
4. Michael Miller, Whitefish, 86.
5. (tie) Micah Jam, Columbia Falls, 88
Tyler Schiff, Whitefish, 88
7. Cole Havens, Whitefish, 90
8. Tanner Lineberry, CF, 91
9. (tie) Nolan Harris, Ronan, 93
Ryon Hesselgesser, Ronan, 93
Eric Anderson, Libby, 93
Girls: Whitefish 445, Libby 496, Columbia Falls 552
1. BreAnna Cameron, Whitefish, 89
2. Katy Sorrell, Ronan, 99
3. Sperry Robinson, Libby 112
4. Jona Peltier, Libby, 113
5. Ellen Scheffer, Whitefish 114,
6. Erin Irvine, Ronan, 115
7. Chelsea Lipscomb, Ronan, 117
8. Taylor Johnson Whitefish 120
9. Tara Sullivan, Whitefish, 122
10. Kelsey DeWit, Columbia Falls 125
---