It's going to be a good year for Troy volleyball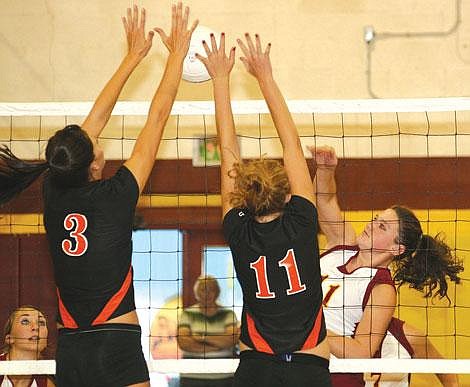 It's going to be a good year for Troy volleyball
|
September 7, 2007 12:00 AM
Troy Volleyball Coach Sandra Jansma feels very confident about the upcoming volleyball season.
The Lady Trojans played the Mission Tournament on Aug. 25 with 10 games split 5 and 5, Jansma said.
"It was good to see the other teams in the division," Jansma stated. "It's going to be a good year."
They played against Eureka on Aug. 30 in a home game of 5 games. Troy won the first 2 games with scores of 25-13 and 26-24. They fell to Eureka in the final 3 games, with Eureka scoring 25-18, 25-22 and 15-5.
"It was absolutely phenomenal," Jansma said. "There was a really high energy level in the team and the fans were cheering. It was a really good game."
In the Eureka game Brandy Koch had 28 digs and Delsey Olds had 8 kills.
"Megan Etienne did awesome on serving and so did Brandy," Jansma said.
Liz Straley helped lead the team with 14 assists.
"Delsey was running the net against Eureka and getting the team and the crowd riled up," Jansma continued.
The Trojans played Mission on Saturday, Sept. 1 and beat them in four games. The Trojans scored 25-20, 18-25, 25-20, and 25-17.
"It's a long trip, they came out of it sluggish," Jansma explained. "But we ended on a good note. We learning about the team dynamics.
"We have five seniors this year and they're strong players. The girls are really close, they are best friends and it really shows on the court."
The Troy Trojans don't play again until Thursday, Sept. 13 against Noxon.
---