Melting stops as cold front arrives by weekend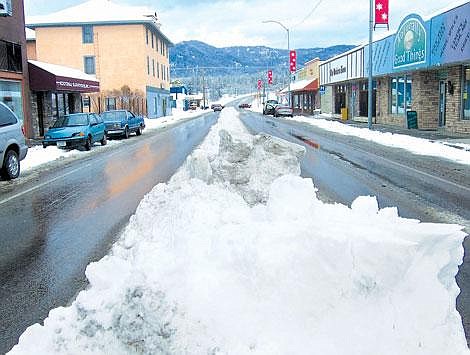 Melting stops as cold front arrives by weekend
by
Kyle McCLELLAN Western News
|
November 29, 2007 11:00 PM
Teased by the white-capped Cabinets for the past month, residents of this mountain town finally got the element that largely defines them.
And quite a bit of it, too.
Five to 6 inches of snow fell at a rate of about an inch an hour, which introduced the area to winter's most explicit trait far later in the season than most here expected.
It began falling lightly around 9 p.m. Monday, with larger flakes forming by 11 p.m.
Between 8 and 11 inches blanketed the northern Yaak Valley, said meteorologist Peter Felsch with the National Weather Service in Missoula.
A strong cold front moved in Monday night from the Gulf of Alaska and broke up late Tuesday morning.
Just a few slips and crashes occurred around town as residents and infrastructure managed the awkward re-introduction to the slippery stuff.
A elderly driver rammed his Dodge minivan into the east side of the post office, causing the stone facade exterior to cave inward.
The post office has been hit by a vehicle three times since 2002, said Libby Postmaster Bruce Moog.
By Wednesday, police responded to one minor vehicle collision.
The area will see a high temperature of about 23 degrees Friday and 21 degrees Sunday as an Arctic front begins to push over the continental divide.
"That's a fairly big change over the past couple of days," said National Weather Service meteorologist Jennier Via.
The front also means much cooler nights, with temperatures dropping into the single digits on Saturday morning.
Snow showers are expected to come by Sunday evening.
"Monday should be an interesting day as far as weather goes," Via said. "We'll start out seeing snowfall and then freezing rain that will transition into rain."
A strong southerly flow that day will bring higher temperatures into the mountains above colder and denser air hanging in the valleys.
---