Traditional art of Hardanger benefits Lincoln County community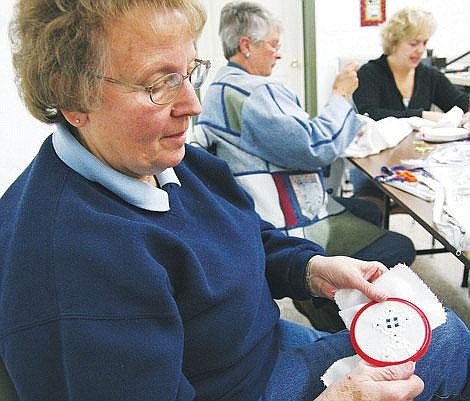 Traditional art of Hardanger benefits Lincoln County community
Some busy little elves have been meeting in Libby every week at Frames Unlimited, stitching ornaments that will adorn a Hardanger styled tree - complete with an embroidered angel tree topper - for the Festival of Trees, an annual benefit hosted by St. John's Lutheran Hospital Foundation.
The annual event began six years ago, raising $10,000, according to KC Hoyer, Executive Director of the Foundation. Since then, the event's proceeds have steadily climbed, last year to $32,000.
This year, the Festival of Trees is project driven; the Foundation hopes to raise the rest of the $250,000 needed for digital mammography equipment by July. They have already raised half of that since they started in June.
"It speaks highly of the motivation of the Foundation board and the generosity of the community," Hoyer said.
Traditionally, local businesses have sponsored a tree, obtaining and decorating one for Family night, co-sponsored by Kootenai Heritage Council.
Elementary school children from the area take field trips to watch the decorating of the 20 plus trees, and are welcomed back later that day to see Santa at the free event, which features local entertainment, crafts, homemade chili (at $3.50 a bowl - with proceeds going to charity), and a train display.
The Foundation then auctions four trees bedecked with tempting prizes at the Gala, which also features live music, hors d'oeuvres, dancing and more prizes via raffles.
Last year, Malia Bennett, owner of JMF Services Inc., and Devi McCully, owner of Frames Unlimited, decided to co-sponsor a tree.
"They came to me and said, 'we're doing a tree!'" said Hoyer.
McCully got her Hardanger group involved. She said she started the group two years ago as a way to keep Hardanger alive.
Hardanger is a Norwegian cutwork embroidery that combines drawn and counted thread work, which is executed on a foundation, an evenweave fabric such as linen or cotton, employing linen or pearl cotton threads.
McCully and Deanna Kehn have already cut and laid the foundation for the tree skirt. McCully estimated it took four hours to "wrap" one side, a process of wrapping thread around a
cut opening in the foundation, giving the signature Hardanger look. The tree skirt took 75 hours to stitch.
Sitting on that tree skirt will be prizes: his and her cross country ski sets, donated by the Sportsman Ski Haus in Kalispell and Annie's Professional Cleaning of Libby; dinner for two at the Boat Club Lodge located on Whitefish Lake; and two nights of lodging at the Grouse Mountain Lodge in Whitefish, which features a lit cross country track.
McCully's shop has always been Hardanger central. Before Kehn moved to Libby from Iowa three years ago, she used to pick up her supplies at McCully's shop when she visited her grandsons after the Omaha store she frequented closed.
"Devi is kind enough to open up her shop to us," said Kristina Sealander, who has been with the group since it's beginning. "She gives her time and keeps us stocked with supplies."
"We're very fortunate that we have Devi's shop," added Sheryl Vinson, who has been stitching Hardanger for 20 years. "The main thing you need is good eyesight." Some supplement their vision with magnifying glass, making it easier on the eyes.
Although the traditional Hardanger of white-on-white embroidery and designs come out of the Hardanger region of Norway, a more colorful and flexible version has evolved in America. For example, many in the groups have incorporated reds, blues and blacks into their work.
Monette Kuzmic, who drives from Happy's Inn every week, is making a bright red Santa - as is Sealander - though their details in the webbing and weaving are different, making them uniquely their own.
"Once you learn how to lay the foundation, you can do a lot of things with it," said Carlene Erlandson, another member who has taught Hardanger classes for 20 years. "It's a freer stitch. It can become your own piece of artwork."
Each ornament for the tree took approximately 3 hours to make, with the group investing a combined 1,000 hours since last February toward the Hardanger tree.
As the group works on their various Hardanger projects around a table, which also holds a pumpkin pie and homemade brownies, talk turns to a cancer benefit to be held over the weekend.
It's clear the group does much more than stitch at their weekly meetings. They chat, nibble on treats and work for good causes, friends and family.
"We solve the county's problems," said McCully. "Here, we accept everything and everybody," said Sealander.
"These girls are addicted!" summed up Erlandson.
Their addiction will raise thousands of dollars for the hospital and help save lives.
---