Loggers fall to Rams in Class A semifinal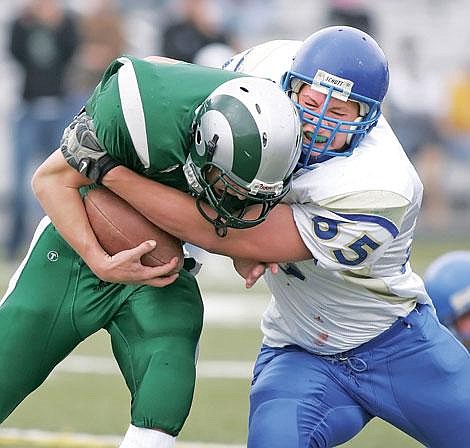 Loggers fall to Rams in Class A semifinal
|
November 13, 2007 11:00 PM
The Western News
The Loggers fell hard to Billings Central on Saturday's Class A football semifinal in Billings, losing 45-0.
The Rams stopped the Logger offense with a bigger and faster team, 22 of which were seniors, which left Libby averaging 59 rushing yards in the game to Billings' 304.
Throughout the season, Libby had averaged 404 yards and 44 points per game.
This time the Loggers averaged 128 yards, while the Rams averaged 458.
Jeremy Chumley made 18 yards in seven carries - compared to last week's 218 against Sidney.
Josh Chumley rushed 5-26, with Colton Cannon at 6-23 and Jeremy Chumley at 7-18.
Libby's Zack Rowan received 4-39, with Loren Nelson at 2-17, Jeremy Chumley at 2-8, and Seth Wright at 1-5.
Central's Alex Bushman received 4-131 yards.
Although Jordan Gragert recovered a fumble at the Ram's 45 early in the second quarter, the Loggers only made it as far as the Central 7, when Bushman intercepted a Fuller pass to Chumley in the end zone.
By the end of the first half, Central led the Loggers, 32-0.
Starting quarterback Joel Fuller was sacked three times and injured late in the second quarter with a foot injury that took him out of the game and on crutches. He was 0-for-6.
His replacement, Colton Cannon, and Fuller completed 9 of 29 passes for 69 yards. The Rams passed for 154 yards.
Brandin Mills was also injured and on crutches during the course of the game.
This year's loss was the Loggers' first on-field, but technically second, of the year, finishing 9-2 after an ineligible player forced a forfeit of a 50-23 victory earlier in the season.
Billings Central will travel to Dillon to attempt a 12th consecutive win for the Class A championship against Dillon, who beat Butte Central, 45-8.
The Rams, who have not had a state title since 1968, will hope for a repeat of the Sept. 7 game earlier this year, when the Rams beat the two-time defending state champion Beavers, 20-6.
---