Bull Lake residents: slow down and enjoy the scenery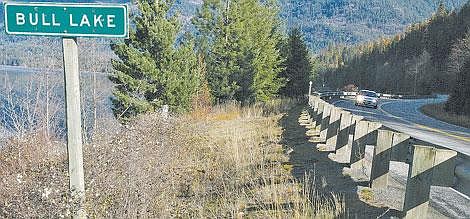 Bull Lake residents: slow down and enjoy the scenery
Several near-accidents along state Highway 56, some involving 18-wheelers and fire engines, have Bull Lake Road residents and Lincoln County commissioners appealing for a speed limit reduction.
The Montana Transportation Commission will consider those appeals at a Dec. 6 meeting.
Residents want the speed limit at that stretch of highway, which runs from milepost 16.5 to milepost 21.5, reduced to 55 mph from 70 mph.
However, the Montana Department of Transportation, after conducting vehicle speed studies in various spots within the study area from June to July, recommended a speed of 60 mph.
It's a 5 mph difference that's proving substantial to the residents.
"It doesn't seem like that much but it's much more comfortable for us. It gives us that much more time to react," said resident Betty Sikes, whose written appeal to the county commissioners mentioned statistics that "depersonalize just how frightening it can be to drive in the area…"
Statistics from the department show that from 2004 to 2007, the stretch of road saw seven single vehicle accidents and one sideswipe accident.
But all seven involved one or more combinations of adverse roads, animal conflicts, slush on the road and alcohol.
No accidents were recorded that involved residential access.
The accident rate for the stretch of highway in the study area is 1.68 per million miles traveled. The statewide average for rural highway routes is 1.40 accidents per million miles traveled.
The 70 mph speed limit already drops to 55 mph at milepost 19.5 and continues until 20.5, a stretch that includes the Halfway House bar.
Numbers from the study show that 85 percent of the motorists drive that stretch at an average of 65 mph.
Motorists' voluntary inclinations are a factor in the department's study.
A speed limit may be reduced to any number but 85 percent of motorists usually drive at a speed that is appropriate for the given route.
Thus, according to department engineer James Freyholtz, compliance is best achieved at a similar speed limit.
"Generally, studies have shown drivers are most alert at that 85th percentile speed," Freyholtz said.
If the Transportation Commission rejects the county's 55 mph recommendation and goes ahead with the state's recommendation of 60 mph, the change will take effect and new signs will be posted in the area as early as December, Freyholtz said.
If that happens, Sikes, who often speaks on behalf of area residents, said the community might continue its appeal for 55 mph.
"We'll see what their decision is and we'll regroup. If they vote for 60 we'll have to see what we want to do," she said.
The area is seeing a large population growth and it's extending beyond the most visible development near the Halfway House.
Bull Lake Fire Department chairperson Mike Casey said more new driveways are appearing that connect directly to the highway.
The big danger, he said, is when residents try to pull into or out of the drives.
"When we pull out with a fully-loaded fire truck, they're right on us. And we're going very slow because we have old fire trucks," Casey said.
He recalled a semi-truck that passed two of his fire engines on a curve in a no-passing zone as they responded to an emergency.
Other neighbors have similar stories about jack-knifing semis and speeding cars.
Casey wonders what the rush is about.
"This highway is on a national tour for bicyclists. It's such a scenic, beautiful highway," he said. "Enjoy the drive and slow it down. It's like going through a huge community 40 miles long."
---