Lady Loggers wipe out Whitefish for ticket to state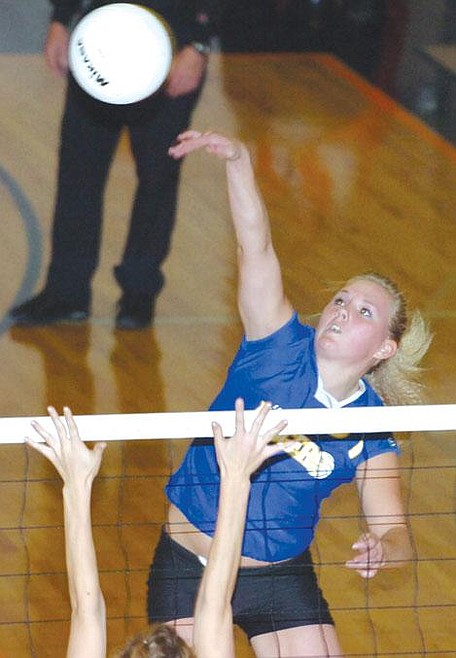 Lady Loggers wipe out Whitefish for ticket to state
by
Hope Nealson Western News
|
November 5, 2007 11:00 PM
The Lady Loggers beat Whitefish in five games - twice, clinching first place in the Class A Northwest Divisionals in Ronan. Libby will travel to Montana State University in Bozeman for the All-Class State volleyball tournament to play their first team, the 2nd Eastern ranked Laurel at 10 a.m. on Thursday.
Libby started their divisonal bracket game playing Columbia Falls, beating them in three games last Thursday, 25-21, 25-20 and 25-14.
"It's really important to win that first match," said coach Cindy Ostrem-Johnston. "When you win those kinds of matches, it's pretty awesome."
But according to Ostrem-Johnsten, the team had a bumpy ride to victory, with a slow start in their first game against Columbia Falls.
"We were playing very flat and unenthusiastic," she said. "At one point we were down 4-10."
In the second game, The Lady Loggers were up 21-9, but they came back, finally winning the match, 25-20.
The team pulled it together and took control by the third game, when they did not let Columbia Falls score more than one run of two.
"The good thing was that we won in three and that we got that first match," said Ostrem-Johnsten.
Brooke Hageness led in both aces and digs for the team, with 2 of the 7 aces and 11 of the 24 digs.
Hageness also had 8 of the 40 kills for the team, with Jackie Mee leading with 12 and Laice Dedrick with 7.
Of the total 38 set assists, Shelby Barton made 32.
And Crystsa Quinn, Dedrick and Nichole Newman each made one of the three total blocks for the team.
The team then advanced to the semi-finals Friday, and when Whitefish beat Bigfork, Libby played them in the championship round, winning the first game, 25-15.
"Thank goodness we won the first game," Ostrem-Johnston said. "It takes a little pressure off."
But then the Lady Loggers lost the second and third game, 18-25, 24-26, winning the fourth game, 25-23.
The pressure was back on.
"The last game was just incredible," Ostrem-Johnsten described. "We were down 1-6. We came back through and ended up finally tied at 13-13.
We had the next serve and we got three points in a row, winning the game and their ticket to state, 15-13."
"That's an incredible feat - to come from behind 1- 6," she said, adding "my knees were shaking, my hands were shaking…It was a hard fought win."
Of the 16 aces in the match, Hageness had 6 - serving 92 percent. Megan Wedel had 3 for 96 percent, and Mee had 3 for 95 percent. Barton served 100 percent.
The team served much better against Whitefish at 93 percent.
"If we had served what we did for Columbia Falls, we wouldn't have won," said Ostrem-Johnston.
There were 57 kills in the Whitefish match, with Hageness leading with 14 and Dedrick with 13. Barton and Mee each had 9.
Of the 47 assists, Barton had 38. Of the 6 blocks, Hageness had 3 and Mee made 2. There were 60 digs. Hageness had 20 digs with a 2.17 serve/receive ratio, Wedel had 13 digs with a 2.28 and Dedrick had 11 digs with a perfect 3.0.
"You don't see that very often - especially against tough competition," said Ostrem-Johnston of Dedrick's serve/receive ratio.
"That was a really exciting match, because we knew we were going to state. There were a lot of rallies between us," she added.
But when facing Whitefish again for the #1 spot in the divisional championship, Libby faltered under pressure.
"We let Whitefish take over," she said. "We were making crucial mistakes and getting mad at ourselves…It looked like they were mad at each other," she said of the team. "They didn't talk and get excited like they normally do."
Losing the first two games to Whitefish, 20-25 and 17-25, the Lady Loggers had to win the next three games in order to win the championship.
"We talked about it during the huddle. I told them to let go, put smiles on your faces and get to work," said Ostrem-Johnston. "It was a totally different team that stepped out on the court for the third game."
Ostrem-Johnston said the team used their chemistry to pull together, walloping Whitefish in the third game, 25-9.
"They were so much more focused," she said. "They just decided, 'We want this.'"
Libby went on to win the consecutive games needed, 25-18 and 15-7, accepting the plaque for #1 and celebrating amidst flying toilet paper from the Libby fans who travelled to Ronan to root them on.
"Once we got on a roll in that third game, there was no looking back," said Ostrem-Johnston.
Of the 17 aces for the team, Dedrick had 5. The team served at 92 percent, with Hageness, Barton and Mee serving 100 percent.
Of the 52 kills, Mee had 19, with an outstanding .485 attack percentage. Dedrick had 18 kills with a .224 and Hageness had 14 with a .235.
The team's total attack percentage reached .233, "a little better than the first time we played them," said Ostrem-Johnston.
Barton made 40 of the 45 assists, and Hageness had 16 of the 60 digs.
Although the seniors barely got a taste of state in 2004, they will be leading the team this year.
"It was a great weekend," said Ostrem-Johnston. "We haven't had a divisional championshiop since 2003. The seniors did a great job of standing up and taking on a leadership roll."
---