Libby to host Sidney in 2nd Round Class A Football play-offs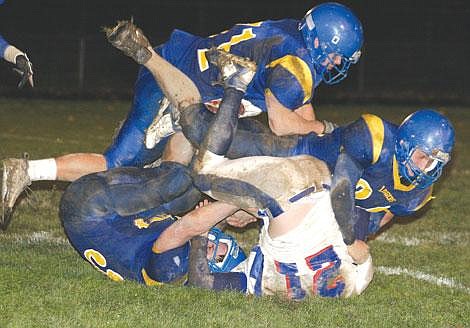 Libby to host Sidney in 2nd Round Class A Football play-offs
by
Hope Nealson Western News
|
November 1, 2007 12:00 AM
The undefeated Loggers will play a 7-2 Sidney at 1 p.m. at Logger Stadium this Saturday, fighting for the right to battle it out for the Class A State Championship.
Sidney, the 3rd place finisher of the Eastern conference, defeated Belgrade in the first round of State last Saturday. The Loggers had a bye.
The last time the Loggers played Sidney was three years ago in the state quarterfinals. It was Logger coach Neil Fuller's second year, and they beat them in overtime 35-34, coming from behind in the second half.
"It was a great experience," Fuller said of Libby's visit to Sidney. "Mike Gearson has a great program," he said. "After that game they fed us - both the players and the fans. They're a class act."
Tony Rebo, the Loggers announcer for three years and scoreboard keeper for seven, remembered the game well.
"It was one of the greatest comebacks," Rebo said. "We didn't score in the first half and were losing by a lot. Then we came out in the second half and took it into overtime and won. It's always been a big rivalry."
Rebo is quick to credit Fuller with the team's success.
"If you look back at the Class A and Western A Conference stats, there's not just one guy, there's a bunch because Coach Fuller does a really good job of spreading the ball around to all the athletes," he said. "So it's hard for teams to key on one player."
Rebo also noted team chemistry.
"One reason we're so successful this year is that everyone really gels - he has a team that really works well together."
Junior Joel Fuller, who plays quarterback and linebacker, said the team has been practicing hard for Saturday, watching tapes and running Sidney's offense via the scout team.
"The recognition of their plays and formations will help us to key in on them," Fuller said.
Fuller added the team will need to come out with confidence and discipline in order to beat Sidney.
"I think if we play like we can, we have a pretty good shot at winning," he said, adding "we just have to play smart."
Senior Jordan Gragert, who plays both offensive and defensive line, said they'll need to play fundamental defense to win.
"They'll probably run the ball right at us," he said. "They're a little bigger, but we have a lot of team speed."
Gragert said he expects a lot of fans to come out for the game.
"It's very important," he said "It's our last home game played in high school."
When asked about the possible State match between Billings (if Billings wins their game this weekend) and Libby (if the boys win), Rebo ventured a guess.
"I don't see any team competing with us until we play Billings," he said.
"(Sidney) has to travel 12 hours to get here and play in our cold conditions, while our kids get to sleep in their warm beds, so we have the advantage from the get-go," he said. "We also have a huge fan base - especially since it's playoffs."
But Coach Fuller remained focused on Saturday.
"We need to get by Sidney first," he said. "It's a good opportunity for us to play one of the best programs in the state. I'm excited to play them," he said.
The Booster Club will host a Tailgate party, offering hamburgers and hot dogs, from 11 a.m. to 1 p.m.
---