Teacher's aide retiring after 33-plus years in Libby schools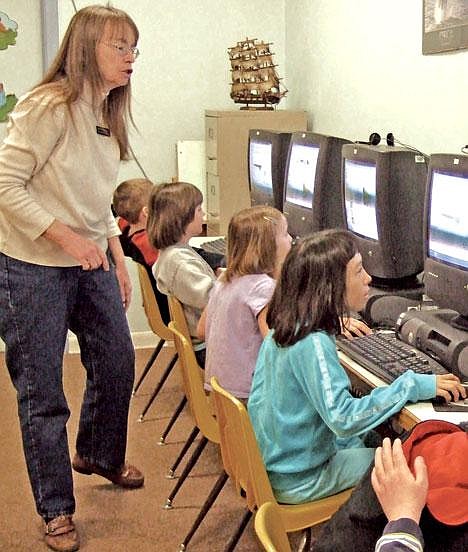 Asa Wood Elementary School teacher's aide Deanna Byrer works with students. Byrer has served more years than any other aide in Libby and possibly Montana.
|
March 28, 2007 12:00 AM
By GWEN ALBERS Western News Reporter
Deanna Byrer's time with Libby Public Schools is well worth noting.
Not only has she served more years than any other teacher's aide in the school district, Byrer may possibly hold the record for longevity as an aide in Montana.
Now, after 33 1/2 years as a teacher's aide in Libby's elementary schools, Byrer will retire on June 9.
"I'm going to miss the kids and I'm going to miss the staff," she said. "It's been a lot of fun. I love the job."
Joe Lamson, communication director with the Office of Public Instruction in Helena, said Monday it's likely that Byrer has served longer than any other teacher's aide in the state.
"The general consensus was she's at the top or amongst the very top," said Lamson, whose agency oversees Montana's 540 public schools. "It's a very significant accomplishment."
Byrer, 63, began working for Libby Public Schools after moving here from Seattle in 1973. She spent a total of 26 years at Asa Wood. The rest of her time was spent at the former Lincoln, Central and Plummer elementary schools.
Byrer now works at Asa Wood, where she maintains the school's Web site. She also oversees the www.club for second- and third-graders who meet at 7:30 a.m. to do educational research on the Internet.
Byrer's retirement will be a significant loss to the district.
"We really were blessed," said Asa Wood principal Ken Foss. "She's a paraprofessional with the knowledge of a teacher. It's going to be a huge impact. You don't replace someone with 33 years of experience."
"She'll volunteer for any duty and she does it with a smile, and then she tries to find a way to make it better," Foss continued. "She helps teachers, and she helps kids. She will work and work to find a way to meet the needs of a child."
Asa Wood reading coach Bgee Zimmerman, who also worked with Byrer while teaching, agrees with Foss.
"She's dependable, she's extremely hard working and she's always looking for a way to work with children," Zimmerman said. "If one way doesn't work, she finds another way. It's going to be hard to give her up and just as hard to replace her."
Deanna and her husband, Dale, plan to spend more time with family, including with their children Bill Forcier, and Loralie and Matt Byrer, all of Seattle, and Rachel Dahl of Lewiston, Maine, and their grandson, Eric Madison, 16.
Byrer is sure to miss her job.
"I've had such wonderful kids," Byrer said. "Over the years, I've just been amazed at some of them."
---