New fire trucks arrive in Libby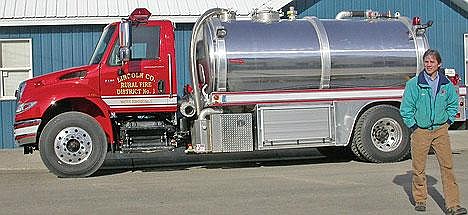 Steve Lauer, assistant fire marshal for Libby Volunteer Fire Department, stands near one of two new trucks for Lincoln County Rural Fire District.
|
March 28, 2007 12:00 AM
By GWEN ALBERS Western News Reporter
Improvements to equipment, including the recent addition of two new fire trucks in Libby, could help reduce insurance premiums for rural homeowners.
The Libby Rural Fire District recently took delivery of the 2,500-gallon water supply trucks. For now they are located at stations near EmKayan Village 7 miles north of Libby and at the top of Whiskey Hill on Highway 2, 4 miles south of town, said Steve Lauer, assistant fire marshal with Libby Volunteer Fire Department.
Firefighters depend on water from ponds and lakes when battling blazes outside the city because fire hydrants are not available. It takes less time to fill the new trucks with water, which means better response time, Lauer explained.
"The old style tenders in some cases were not as dependable," he said. "We have had a lot of trouble with them."
Each of the 2007 model trucks cost $170,000, said Libby Fire Chief Tom Wood. The money came from property taxes.
"We didn't raise taxes," Wood said. "This is something we have been preparing for."
Being able to provide water quicker could mean the rate for setting insurance premiums could be changed, thus fees could be reduced.
"Within the next probably 18 months to two years we will have all the equipment and we will look at a significant rate change," Wood said.
The Insurance Service Office determines the rating for setting insurance premiums. Officials will look at available equipment including trucks, training records and response times.
"That should in turn lower rates," Wood said.
Libby Volunteer Fire Department purchased another 3,500-gallon water supply truck in May 2004. A $149,000 federal grant helped cover the $165,000 cost. The truck is located at the downtown Libby station.
---