Shuey named top VFW service officer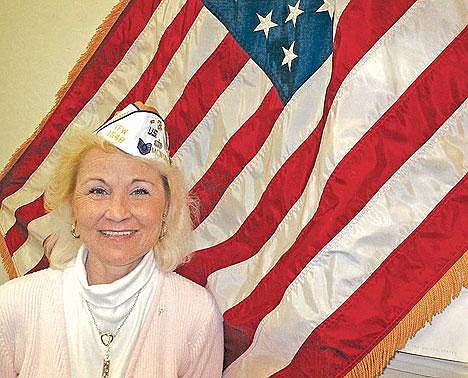 Libby's Ruth Shuey has been recognized nationally for her volunteer efforts to help veterans and their families get benefits through the Veterans of Foreign Wars.
|
March 23, 2007 12:00 AM
By GWEN ALBERS Western News Reporter
When Jana Lewis' husband, Donald, died on Jan. 26, stranger Ruth Shuey became an instant friend.
Shuey, a volunteer service officer with the Veterans of Foreign Wars in Libby, helped Lewis collect her husband's military benefit to help pay for his funeral and headstone. Jana Lewis, whose husband served in the Navy, remains grateful for Shuey's help.
"She made it easy," Lewis said. "She just made the load lighter for us."
That's one of the reasons why Shuey, who monthly helps up to 50 Libby veterans and their families apply for benefits, has been named the VFW's top service officer in the nation and state.
"I was shocked because I'm just doing things for the veterans," Shuey said. "I didn't expect it. I'm just there to help."
Shuey will travel with her husband, Steve, to Kansas in April to receive the national award and to Miles City in June for the state honor.
The news pleases Collin Thomson, commander of VFW Post 1548 in Libby.
"We were all ecstatic she's being recognized, considering the number of people who are doing the same kind of work throughout the country, and to have her be number one - it's a super honor," Thomson said. "Libby doesn't know how fortunate we are. It's in her heart to help people. She's a real Christian lady."
A Baltimore native who grew up in Florida, Shuey learned a lot about the military while serving in the U.S. Air Force for 21 years, 11 months and 22 days. She came to Libby to be closer to her daughter, Monica Rice, after retiring in August 2001.
Disabled for health reasons, Shuey, 50, hasn't allowed her condition to keep her from volunteering as the quartermaster and service officer for the Libby VFW. The job involves bookkeeping and processing paperwork to help veterans and their spouses obtain government benefits.
"If they're due money, I make sure they're compensated for it," Shuey said.
Her illness and the fact that she turns down any pay are little know facts, said Shuey's husband, Steve.
"Ruth is disabled herself and she goes down there when she has migraines and takes time out of her life to help these veterans," Steve Shuey said. "I think that's commendable. She knows what she's doing and is doing it out of the goodness of her heart."
Ruth Shuey got much of her training in the Air Force, where she worked as an information manager doing paperwork and working on computers.
"I know my way around the computer process forms. I just thank God for giving me the talents," she said.
Ruth Shuey's work caught the attention of Bob Schwegel, department service officer for the VFW in Harrison. Schwegel nominated Shuey for both awards.
"She's doing a super job in Libby," he said.
That's why Bobbie Nelson, co-owner of Nelson and Vial Funeral Home in Libby, doesn't hesitate to send veterans' survivors to Shuey for help.
"She knows about the programs and she's very valuable," Nelson said. "We feel confident sending families to her."
---