Troy names twin valedictorians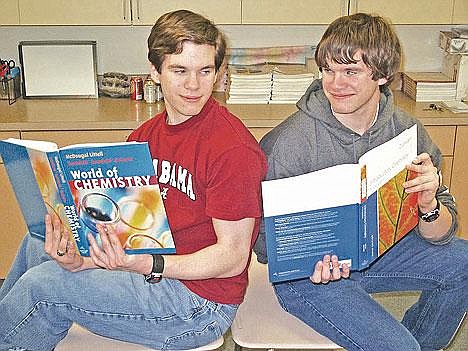 Twins Andrew, left, and Zachary Smith are co-valedictorians at Troy High School.
|
March 21, 2007 12:00 AM
By GWEN ALBERS Western News Reporter
Twins Andrew and Zachary Smith share more than a resemblance.
The 17-year-old Troy High School seniors are co-valedictorians for the Class of 2007. Both have a 4.0 grade-point average.
Sharing the top spot is nothing new for the sons of Troy High School principal Rod Smith and his wife, Gayl.
Andrew and Zachary have always been straight-A students while taking challenging courses like trigonometry, chemistry, physics and advanced-placement English. Before moving from Alabama to Troy at the end of their freshman year, both were in the top 1 percent of their class of 280 students.
The Smith boys since kindergarten have been in every class together except one in high school. For that 1/2-credit course, Andrew chose psychology and Zachary, physical conditioning.
Both are headed to Montana State University in Bozeman next fall. They'll probably be roommates. And even though Andrew will major in biotechnology and Zachary will study chemistry, it's likely they will still share some classes.
"They work hard and have always focused on their education," said Rod Smith. "If one has a problem understanding something, the other might have a better idea. They've been each other's support and best friends."
The fact that Andrew excels in the sciences and Zachary in English and math also has benefited them.
"It was a lot easier to study and you always had somebody there," Zachary said.
Both admit that maintaining perfect grades wasn't always easy.
"It's a lot of pressure to keep up the grades and make sure you do everything without getting sidetracked," Zachary said.
"We started out wanting all 'A's' and after a while, it got harder," added Andrew, who is five minutes older than his brother.
High school science teacher Jim Jones had both boys in advance biology courses, including entomology, the study of bugs, and ichthyology, the study of fish.
"They were wonderful students because they were always interested," Jones said. "They put in 100 percent effort."
Andrew and Zachary share a lot more.
Both work part-time at Stein's IGA in Troy and both belong to Troy's National Honor Society and Close-up. Both will appear in the high school play on April 18. Andrew will play the bad guy and Zachary the good guy in the Western melodrama "Wagon Wheels a-Rollin'."
Like many students, Andrew and Zachary went without dates to Troy's March 10 prom. They also like going to the movies weekly, but make sure there's a seat between them. Four days a week, the boys run 5 to 10 miles with their dad.
"Even when they were in sports, they were each other's biggest fans," Rod Smith said.
The boys have always gotten along, according to dad.
"We had a little problem in kindergarten. They wanted to separate them," he said. "They weren't getting along with the other kids and were bossy with each other."
That passed.
Andrew and Zachary, the Smiths' only children, also have had a lifelong appetite for reading.
"They read constantly. They always have a book in their hands," Rod Smith said. "When they were smaller, they'd rather read a book than watch TV."
As valedictorians, both will speak during the June 2 high school commencement, when 36 will graduate.
The class salutatorian is Haeli Higgins.
---