Plans for new ambulance building unveiled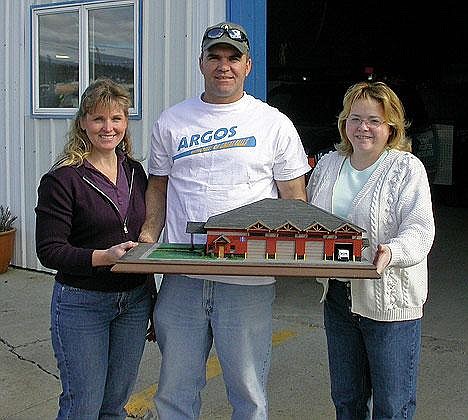 Shelley Larimer (left), Craig Schultz and Penny Kyes hold a model of the planned Libby ambulance station.
|
March 16, 2007 12:00 AM
By GWEN ALBERS Western News Reporter
Dirty, damp and inhabited by mice is how Penny Kyes describes the Libby Volunteer Ambulance building.
Workplace conditions for Kyes - the non-profit agency's only full-time employee - are about to improve.
By summer, LVA plans to break ground on a new $1.1 million, two-story brick building that's three times the size of its current facility. Construction is expected to take eight months.
The LVA building at 307 Montana Ave. behind Cabinet Mountain Chevrolet will be torn down to make room for the new 10,000-square-foot building. The ambulance service in 2002 purchased an adjoining lot from Terry Maki for extra space.
LVA has about half of the money saved and will finance the balance, Kyes said. Construction will not require tax dollars.
"It just didn't happen. We've been saving for this building for years and years," she said. "We've behaved pretty frugally."
Staffed by volunteers, LVA will repay the loan with fees from services rendered. The agency gets 1,250 calls annually from a 1,430-square-mile service area and bills insurance companies, Medicare and private pay patients.
A county tax covers only the cost of new ambulances for volunteer companies in Libby, Troy and Eureka. The owner of a home valued at $100,000 pays $11.65 annually to cover the tax.
"The taxpayers provide us with an ambulance, and we do everything else." Kyes said. "Just a radio in an ambulance is $7,000. It's not cheap to operate an ambulance service. We need a new barn, and we don't want taxpayers to pay for it."
LVA has been at its current location for 36 years. The building was formerly the maintenance shop for Lincoln County government. The roof needs replaced, the doors at times don't close, and there's not enough room for ambulances.
"It's inadequate for six ambulances," said Charles McFarland, president of LVA. "It only has one door. What if the ambulance in the doorway doesn't start?"
Libby's Shelley Larimer, a student at ITT Tech in Spokane, and fellow students designed the new LVA building for a class project.
The building will include offices, a meeting room, a four-door garage bay with drainage, living area and sleeping quarters. LVA likes on-duty volunteers to be within 5 minutes of the station. Some who live further out stay at the station when on duty.
LVA continues to look for a location to house its operation during construction.
---