Libby teacher wins Gold Star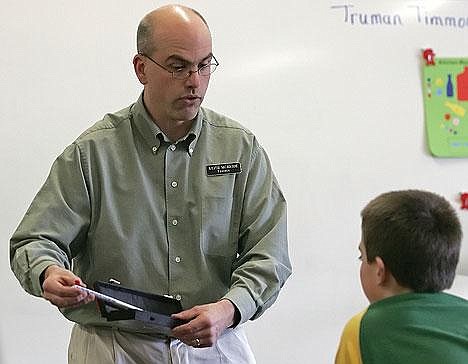 Asa Wood teacher Keith McBride interacts with a student. (Photo by Paul Sievers)
|
March 14, 2007 12:00 AM
By GWEN ALBERS Western News Reporter
Kandis Peterson appreciates the individual help her son, Alex, gets from Asa Wood Elementary teacher Keith McBride.
McBride says it's part of his job.
For his efforts, KCFW-TV 9 in Kalispell has given McBride this month's Gold Star Award. In its 16th year, the program recognizes nine educators annually from northwest Montana who make significant contributions in their schools.
A television crew recently filmed McBride and five of his second-grade students in the classroom. The segment will air throughout the day Monday through Friday, March 12-16, and during the daily 6 p.m. news.
Peterson, financial resource counselor at St. John's Lutheran Hospital, nominated McBride for the award.
"He's extremely nurturing, and as a teacher, I've never seen him falter or give up on anyone," Peterson said. "Keith pulled Alex from his shell. He's shy. He just worked with him. He does a lot of one-on-one."
Asa Wood principal Ken Foss wasn't surprised to hear McBride received the honor and called McBride "the teacher you dream of."
"He's great," Foss said. "If I could have 50 of him, wow . . . He wants them to learn and he does it in a fun demeanor, but yet is very serious. The kids love him and he has great relationships with the parents."
A modest McBride was quite surprised to be honored.
"I think everyone here is a pretty good teacher," he said. "It's an honor to be chosen. Almost any one of us could be a Gold Star teacher."
He said he attempts to give students as much one-on-one attention as possible.
"I think of each child as an individual in order for them to become good learners," McBride said.
A Billings native, McBride received his degree in elementary education from University of Montana in Missoula. He taught at Hellgate Elementary for three years before coming to Libby, where his wife, the former Denise Cote, grew up.
McBride has taught in Libby for nearly 10 years.
---