Kratofil retiring after 41 years with Libby Public Schools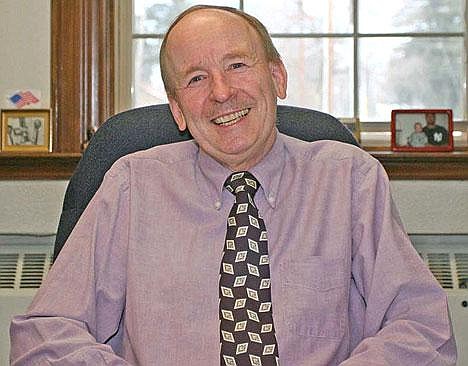 Kratofil retiring after 41 years with Libby Public Schools
By GWEN ALBERS Western News Reporter
For rookie teacher John Kratofil, Libby Public Schools was a stop on the way to bigger and better things.
That stop lasted 41 years.
Kratofil, a teacher-turned-administrator who coached Libby High School's first cross-country team, will retire in June. He has worked for the district longer than any other employee since beginning his career here in August 1966.
"It was extremely tough," Kratofil said about his decision. "The only thing I've done my whole life is education."
A former teacher, athletic director and assistant high school principal, Kratofil has been special services director since 1998. As the district's second top administrator, he oversees special education and federally funded reading, after-school and drug-free school programs. He is also the transportation director.
The position is likely to be filled, said district superintendent Kirby Maki.
"John's 41 years of learning is hard to replace," Maki said. "For me, he was somebody I could ask questions of. Someone I could trust to give me good insight in decision making."
"John is an outstanding individual and an outstanding employee," added retired LHS principal Stan Evans, who worked with Kratofil for 25 years. "He's a great people person, and I think his success in an array of areas is due to his personal and people skills."
A native of Butte, Kratofil's first connection to Libby was watching its high school basketball team in the 1966 state championships. A few months later, the then 21-year-old graduate of Western Montana College in Dillon began teaching English and reading at the former Asa Wood Junior High.
Kratofil figured he wouldn't stay long.
"I had desires to go to bigger systems," he said.
Two years later, Kratofil transferred to LHS, where he taught American government and history until 1980. Kratofil, who has a master's in secondary education administration from Gonzaga University in Spokane, then became the full-time middle and high school activities director.
From 1983 until 1998, he served as the assistant high school principal and athletic director. Kratofil has worked in his present position since 1998.
His career also included starting Libby's cross-country team in 1967 and coaching it and the girls' and boys' track teams until 1980. Kratofil's son, Matthew Mercer, during his senior year was a state champion for Libby's cross-country team and in the 1,600- and 3,200-meter runs.
Kratofil tried hard not to let his health interfere with his work. Diagnosed with muscular dystrophy 30 years ago, he went into remission. Kratofil for a time continued downhill skiing, running at Blooms Day in Spokane and refereeing high school basketball games.
Four years ago, he broke his hip, which worsened the disorder that weakens the muscles. Kratofil has since used a walker.
At times, the muscular dystrophy made being activities director tough.
"I couldn't do the job the way I wanted to," he said.
Kratofil's children Deanna Purdy of Fort Collins, Colo., Shannon Kom of Kalispell, Matt of Spokane and Brian Kratofil of Helena graduated from Libby High School. All participated in sports and activities.
"All four had good experiences," Kratofil said. "It's just a good system. There's just a lot of progressive things going on."
Kratofil's wife, Margie, is a part-time secretary at Libby Middle School for principal Ron Goodman. She retired from her full-time position in June 2006, but returned in the fall.
John Kratofil's retirement will mean the end of an era.
"He was kind of a mainstay," Evans said. "He was an administrator who was able to help fellow administrators and superintendents over some hurdles. I believe his job was his hobby and in some aspects, his recreation because he loved athletics and he loved to coach."
---