Small town natives become world travelers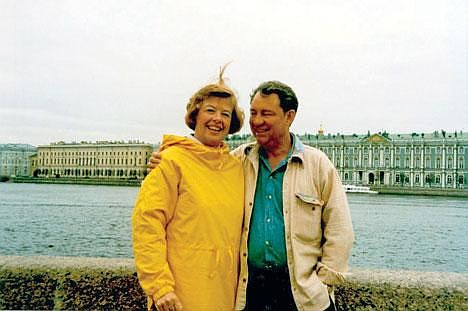 Carol and Terry Waters pause in front of the Hermitage in St. Petersburg, Russia. The Hermitage was formerly the home of Russian czars and was known as the Winter Palace.
By GWEN ALBERS Western News Reporter
Carol and Terry Waters' small-town roots didn't stop them from growing into world travelers.
The former Carol Zwang, born and raised in Libby, and her husband, who comes from an even smaller town in New York's Catskill Mountains, have been to the world's seven continents, 54 countries and this nation's 50 states.
Their careers in education helped facilitate their travels.
After graduating from Libby High School in 1968, Carol went to Oregon State in Corvallis. She taught home economics in Portland, Ore.
Her husband grew up in upstate New York, and started his teaching career in Long Island. Terry was a principal at schools in New Jersey and an assistant superintendent and superintendent at schools in Pennsylvania before taking a superintendent's position in Oregon.
That's where the couple met.
Disillusioned with a job that was "basically politics and finances," Terry wanted a change. A friend told him about International-American Schools.
"We researched it a little and said 'we'll try it for a year,'" he said. "Fifteen years later we retired."
There are 900 International American Schools around the world. Most of their teachers and administrators are Americans also looking to benefit from the travel. Most move on after a few years.
For that reason, the couple could find jobs together. She taught elementary education while he served as a superintendent while living in Brasilia, Brazil; Kathmandu, Nepal; Bangkok, Thailand; Taiwain, China; and Genoa, Italy.
The International American Schools are for children of diplomats and ambassadors, Americans with children working overseas and children from the host country.
"It's tuition driven and not owned by the government," Terry said. "Tuition is very high. The various governments will pay for the children of ambassadors and diplomats."
Most of the students are normal kids of average intelligence, Terry said.
"But not once in 15 years was an empty can of beer brought to me from the bathroom. That's not to say they didn't drink beer or smoke grass on Friday nights," he said. "If (the students are from) a corporate family, this might be the only time General Motors is going to post dad overseas. He's not going to let his kids be sent home."
"If he's a diplomat, he will not have any stain on their country," Terry continued.
Carol enjoyed teaching overseas.
"It's a wonderful education," she said. "I felt I was teaching and not baby-sitting. These are very disciplined kids."
Carol's two adopted daughters from Korea were young when their parents began their travels.
"They did their whole school career (overseas)," Carol said. "One graduated from Thailand and the other from China."
Carol noted that every country had its ups and downs.
"Living in a country is totally different than visiting a country," she said.
They were living in China when terrorists attacked New York City on Sept. 11, 2001.
"They had foreign police there and assigned body guards to us 24-7," Terry said.
That lasted for about two months, although the couple didn't feel it was necessary.
When the couple retired, they moved to Hilton Head, S.C. They now live in The Villages in Florida.
---