Troy swimmer sweeps games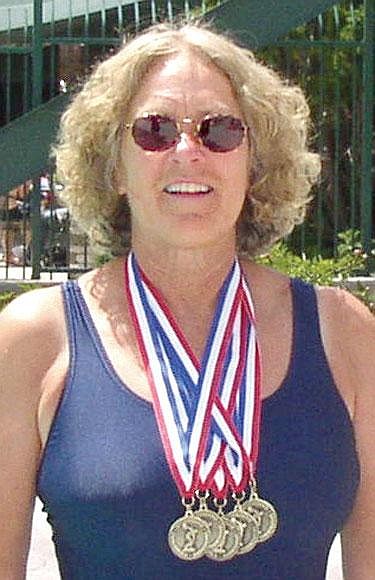 Troy swimmer sweeps games
By CAROL HOLOBOFF The Western News
Ella Ackley returned to her home in Troy with not one, but five Senior Olympic gold medals in her age division. Not only did she race the clock to win the medals in five events she also broke the state record in all five events.
The National Senior Games Association (NSGA) is the nation's leading organization representing fitness and sports interests for mature adults. Established in 1986, the NSGA serves as the umbrella organization for 50 Member State Games and 350 local and regional games. More than 250,000 mature adults are involved in training, competition, and education on a year-round basis.
Ella always loved swimming as a child and was on a swim team in Southern California. She married her swimming coach Corky Teska and they moved to Libby in 1966 to manage the Libby Racquet and Swim Club. Ella coached the swim team in Libby until 1976 when the pool closed. She took up running to keep fit and had not swum in over 30 years.
Teska, now her ex-husband, suggested she try out for the State Senior Olympics in a 5K run, but she decided she would like to compete in the swimming events too, so she trained for two months. Of course, there is no pool in Troy or Libby, so she went to visit their son in Boston, who has a pool. While in Troy, she traveled to Sandpoint, Idaho to swim.
On June 14, Ella went to Butte for the three day Montana Senior Olympic Summer Games. The swimming events were held in Butte's new YMCA. Several friends accompanied her and she said they all "had a blast."
Ella did run in the 5K race and came in third. For the swimming events she competed in the 50-yard freestyle, 100-yard freestyle, 200-yard freestyle, 500-yard freestyle and the 100-yard individual medley. She went for, and brought home, the gold.
When Ella was asked if she plans to travel to the National Senior Olympics, she said she didn't even know where they were. When told the nationals are in Kentucky this year she said, "I'm still recovering from the state games. Maybe next year."
Ella said she will definitely train for next year's swimming events because she will be in a new age bracket which means she could break more state records.
---