After 60 years sisters finally find each other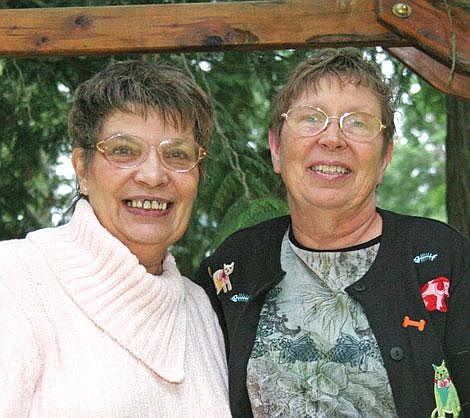 After 60 years sisters finally find each other
Women separated and adopted to different families
By ERIKA KIRSCH Western News Editor
There's been a lot of laughter and quite a few tears in the Troy home of Betty and Chris Penner.
The laughter is infectious and the two women supplying it are giddy, almost like little girls even though both women are in their 60s.
Betty Penner has been separated from her biological sister, Evelyn West, for 60 years. Monday, June 4 was the first day each had seen each other since their separation.
The two were given up for adoption when Betty was 3 and Evelyn was 5. Their parents couldn't take care of the girls and they were placed in a children's home in Akron, Ohio. Upon arrival at the home, the two girls were immediately separated. Betty went to an area for toddlers and Evelyn went to the area designated for older children. The children never saw each other again.
Betty went to several foster homes before being adopted at the age of 7 by John and Johanna McClelland in 1951. Betty and her adoptive parents lived in Mantua, Ohio, approximately 30 miles from Akron.
Evelyn was in a foster home for one to two years, she said. The remainder of the time she was in the children's home until her adoption when she was 10. She was adopted by Ruth and Kenneth French and the family lived in North Royalton, Ohio. The two girls grew up approximately 30 miles away from each other.
Betty grew up with an adoptive sister and Evelyn had no siblings.
Both women obviously grew up knowing they were adopted, but it was never discussed in either of their households, they said. Neither group of parents discussed the topic of each girl having a sister either, it was unknown if the parents even knew, both women said.
"Our parents didn't talk about life before the adoption," Betty said. "It was as if life began when we were adopted and life before didn't exist. We didn't delve into it; it was almost like it was taboo to talk about."
Although, Evelyn was aware that the girls' biological parents were very poor and they were unable to take proper care of the children. Their father was in his 60s when the two children were born, Evelyn said. He was unable to work and it was during the Depression. Their mother was younger; she was in her late 30s or early 40s when the girls
were born, Evelyn explained.
"It would have been much worse if they hadn't given us up," Evelyn divulged. "I'm glad I had the opportunity to grow up the way I did, it was a gift they gave us up."
Both girls went on with their lives with their families. Betty married her first husband in September 1963. Evelyn was married in Ohio in 1968. Betty, her husband and their three children left Ohio in 1971 and moved to Phoenix, where she spent 16 years. She and her first husband divorced in 1977 and she was remarried to her husband, Chris, in 1979.
After Evelyn's divorce from her first husband in 1971, she moved to Texas. In 1973, she was married to her husband Chris. The women discovered they both share the same anniversary date for their second marriage; September 22.
After Betty married Chris, the couple moved to Boise, Idaho until 1994 when they moved to Troy. Evelyn and Ron eventually moved from Corpus Christi to Lagarto, Texas, where the two have lived for 15 years.
Evelyn never forgot her sister, Betty, but with everything going on in her life with marriages and work, she didn't make the attempt to contact Betty. It wasn't until a bout with cancer that Evelyn began the search for her sister, she said.
"I had a radical mastectomy and I began thinking about death and my sister," Evelyn stated.
Evelyn hired a private detective in an attempt to track down her sister, but to no avail. Later, an acquaintance of Evelyn's began researching geneology and found information on the sisters' family. Census records were discovered, as well as death certificates for Evelyn and Betty's biological parents. However, once either girl was adopted, their birth certificates were changed to reflect their adopted names, which made it difficult to track down Betty, Evelyn said.
"I see why people get discouraged, you hit blocks all the time," Evelyn admitted.
Evelyn contacted the children's home where the two sisters were first placed. The home wouldn't divulge information on Betty or her whereabouts. The only information Evelyn was able to get was a summary of when Evelyn was put into the home, which was information she already had.
Evelyn ended the search until the death of her adoptive mother.
"I felt like it would hurt her," Evelyn admitted about ceasing the search until her mother passed away. "Whenever I brought it up [the search for Betty], I could feel a tenseness in my mother and I didn't want to hurt her. When she died I knew it couldn't hurt her anymore so I started looking again."
Evelyn began looking on the Internet for Web sites devoted to finding information on people who were adopted, she said. The company tracked down Betty and called the home of Betty's mother-in-law on Aug. 24, 2006.
"I thought, 'If it's meant to be she'll want to see me, if she doesn't I haven't lost anything, I've spent all these years not knowing her,'" Evelyn stated.
When Betty received the message from her mother-in-law she was "shocked and taken aback," she exclaimed. Betty waited a full day before she called Evelyn. When Betty made the call Evelyn answered the phone.
"I said, 'Is this Evelyn?'" Betty stated.
"Evelyn said, 'Yes.'" Betty continued.
"'This is Betty,' I said and we both started crying," Betty said smiling through tears after remembering the first conversation they shared last summer.
Evelyn admitted she was a little tentative after all the years of being seperated, but Betty immediately knew the woman on the other side of the phone line was her sister, she admitted.
The two women continued contact with each other and began making plans to visit one another. After nearly one year, the two sisters, Evelyn, 66, and Betty, 63, finally got the chance to meet again after 60 years.
"I wanted to see her right away and I wanted to come as soon as I could," Evelyn said.
Evelyn flew up from Texas to Kalispell and stayed one week at her sister's Troy home. When Evelyn departed from the plane she "was shaking like crazy," Betty said laughing. "It was just magic, just wonderful."
From that point on, the two women have been "talking like crazy," Betty gushed. The pair have discovered many similarities in the process of getting to know one another. They have similar features, both love the same kind of foods, both love to cook and their husbands have similar characteristics, as well, they said.
"We also can't see two feet in front of us without our glasses," Betty explained. "We can't drive at night either."
Betty and Evelyn spent their week getting to know one another and exploring the area together. They traveled to Bonners Ferry, Idaho, Yaak and along the Kootenai River, the nooks and crannies of Troy, Libby, Kootenai Falls and Bull Lake. The two also had lunch with the ladies from Betty's church.
"The mountains are just beautiful," Evelyn exclaimed. "I want to see more of the mountains.
After six decades, they say there is no animosity about the time they spent apart.
"There is a reason we were brought together now," Betty admitted. "There's no bitterness, things happened as they should have."
Evelyn agreed.
"Life plays little tricks on you," she said. "We're happy we know each other now."
---