Magic show and the King offer wholesome entertainment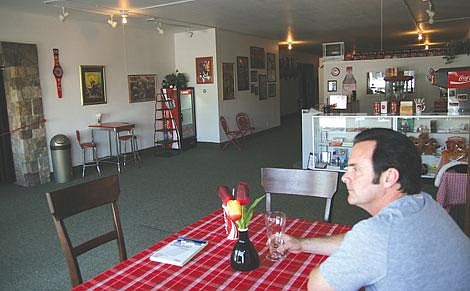 Magic show and the King offer wholesome entertainment
By KYLE McCLELLAN The Western News
After nine years of traveling the world and performing his music and magic, Duane Laflin is settling down in the place he loves, and he is bringing his show with him.
Two years in the making, Laflin's Montana Wonder Theater is finally open in downtown Libby.
Since 2005, when Laflin and his wife, Mary, bought the old Chapman Variety Store and Farmers Union Insurance building at 412 and 414 Mineral Ave., they have been engaged in the immense task of gutting, rebuilding and enhancing the two buildings. By hand, he pounded and tore through two feet of concrete. Walls were knocked down and stone-facade theater entrances were erected. Black walls and black curtains now flank a modern stage with television screens, special effect lighting and a built-in subwoofer. The large backstage area holds the theater's technical workings and shower-equipped dressing rooms. Laflin, who put close to $100,000 into the building and much more elbow grease, said "it was a miserable job. I've never been so sore in my life." But the physical labor nightmare has produced Libby's cleanest and possibly most advanced independent theater. He is betting it pays off and becomes a prime live entertainment venue for Lincoln County's thousands of summer tourists and ever-changing residents.
Laflin, his wife and five assistants, will present two types of shows. The magic and illusion show, where humans will be sawed in half, levitated and floated, takes place Thursday, Friday and Saturday nights during the summer. On Tuesday nights, audiences will be treated to a comedic Elvis tribute show. Laflin said the Elvis show is hard to describe but "it's not just watching somebody try to sing like Elvis." "It's really a top-of-the-line show. It's not amateur people having fun, goofing around with a hobby. This is our profession. It's what we've done for years," Laflin said. But audiences seeking a true Vegas experience at the theater may walk out wondering where the inherent Las Vegas lasciviousness went. He said his show would not be based on "skimpy costumes and off-color jokes, just real classy entertainment." Laflin's introduction to magic came by way of ministry. While training for the ministry in college, he performed magic tricks to supplement his biblical teachings at his church. Discovering he had a knack for magic, he allowed the hobby to develop into a "huge creative outlet." "From there it got out of hand," Laflin said.
For 17 years, he performed magic while working as a pastor in South Dakota. He now considers magic a unique form of ministry. "But now, instead of being in one church, we're traveling around the world and impacting people with our way of doing things," Laflin said. Though his shows are not "preachy or churchy", his evangelical background may be subtly apparent in the entertainment and gift shop offerings. Vegas-style shows typically do not reside near the forefront of morality, which is likely an appealing factor in the migration of millions each year to the desert playground. But the void in live entertainment offerings in Lincoln County is large. Laflin's G-rated entrance into the market may not sufficiently fill it, but it will at least be a fresh offering.
"It's a niche", he said. He and Mary are not planning on getting rich off of the theater.
"We just want to make enough money to stay home and enjoy the family-type lifestyle that we love." To cover himself financially, Laflin has accepted one big booking each month during the summer. If the theater succeeds the way he planned, he hopes to quit traveling completely.
Last February, Laflin and his wife presented a few test shows in Libby over two weekends.
If they are any indication, his goal of settling down should be attainable in a relatively short amount of time. "They got wonderful reviews," he said. "The community just loved the show. They had never seen anything like it." What should audiences expect to see this time around?
"It's the same kind of magic show you'd see in Vegas," Laflin said, "except the girls are properly covered and the humor is clean."
---