Protesters disagree with officer's actions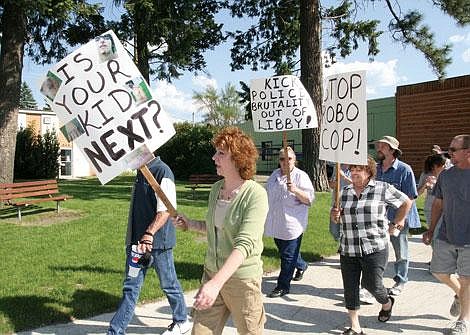 Protesters disagree with officer's actions
By KYLE MCCLELLAN The Western News
Some community members on Friday protested the actions of a Libby police officer who they say is using excessive physical and procedural force while on duty.
Chris Scauflaire, a Libby native and two-year veteran of the police force, is known by many in the community as "Robocop."
But if the protesters' grievances against officer Scauflaire are found to be legitimate, he would share few similarities with the fictional Cyborg officer who waged a fair and dispassionate crime fight on the Detroit streets in the 1987 film.
According to the protesters, fairness and dispassion are not the prevalent qualities recently observed in Scauflaire's actions.
The most recent high-profile action that piqued protester's attention was the encounter between Scauflaire and Myron Rowe, a 17-year-old Libby boy.
The encounter happened at 12:15 a.m. on Sunday, May 27, when Scauflaire responded to noises he heard in the sales lot of Timberline Auto, where new vehicles have recently been vandalized.
According to a police report, Scauflaire walked into the lot to find two females with Rowe, who was hiding.
As Scauflaire approached, he saw Rowe place a bottle of Coors beer under a vehicle and walk away.
Scauflaire caught up with Rowe and told him he was going to handcuff him until he could figure out what was going on.
Rowe struggled, pushing against Scauflaire.
He broke free as Scauflaire called for assistance. The females took off.
According to the report, Scauflaire pursued Rowe and, after giving a verbal warning, fired his Taser gun.
Rowe, who was not wearing a shirt, was hit by the Taser's electrodes in the right upper and lower back areas.
He fell to the cement.
He suffered a cut on his chin that required six stitches. He suffered deep scrapes on his shoulders, arm and knuckles. He broke a tooth.
So, the protesters, frustrated by how an officer, who was sworn to serve and protect the community, managed to disserve and injure one of its members, took to the streets.
They marched from a park to the police station, from the police station to the courthouse and back to the park, all in about 20 minutes.
They marched with signs reading, "Is your kid next?", "Stop Robocop," and "Robo Tazers Our Kids."
They attached photos of Scauflaire and photos of Rowe's injuries.
They broke out in brief chant: "Robo must go."
It was a hasty and convenient exercise of First Amendment rights. Its effectiveness was debatable.
The protest, which began after 5 p.m., did little to shake-up the nine-to-five routine of local workers.
But it did grab glances from passing motorists and a handful of walkers.
"His whole attitude since he's been on the force has been brute force," said protest organizer Shanda Jennings.
Jennings said her son had been the recipient of Scauflaire's alleged ruthlessness during a traffic stop.
"He's trigger happy, he's Taser happy, he won't come down here and talk to the kids. He just can't be decent," she said "Somebody's going to get hurt worse than Myron."
According to Jennings, Scauflaire reportedly said he thought Rowe would make it to the grass after being shot with the Taser gun.
"When you Taser somebody," Jennings said, "they're going down."
Other complaints floated around at the protest.
Some said he performs traffic stops on youths who are leaving the drive-in theater and barely beyond curfew.
Stormy Bear said her sister complained to her about Scauflaire after he caught her with alcohol.
"He kind of jerked her around for a little bit. She jerked away because he grabbed her so hard," Bear said.
Bing Webber said Scauflaire cited him for skateboarding.
"He's against skateboarding," Webber said.
But the brazen picture protesters painted of Scauflaire's demeanor is mostly the result of personal grievances.
Many of those protesting had encountered Scauflaire because they were breaking the law.
And those who find themselves on the receiving end of lawful disciplinarian action — those who get cited or get caught speeding or drinking — are often those who will claim unfair treatment.
Such discipline often cultivates an enduring contempt of law enforcement, which in turn may provide the foundation for gossip and rumors.
Police Chief Clay Coker has heard some of the rumors but he said they are all unfounded.
"He has never broken any laws or any policy," Coker said of Scauflaire. "This is the first time he has Tased anyone."
Coker said Scauflaire reacted appropriately and lawfully to Rowe's attempt to flee.
"The thing about Scauflaire is he could do something and people are suddenly upset. But I could do the same thing and no one would say anything."
Coker said the exact reason Scauflaire has attracted negative attention is a mystery.
"He's not liked by the kids. I don't know why."
But Coker suspects it is the nature of the job.
"We're not out there to be the kids' best friends. I can't be your friend because I have to tell you to obey the law," Coker said. "It's not appropriate. We don't make those kind of relationships."
Coker is a certified police ethics instructor with the National Institute of Ethics and is the current state chapter director of the International Association of Ethics Trainers.
"I take officer misconduct very seriously," he said. "If I get a complaint, I'll investigate it to the end or hand it off to another agency to remove bias."
Though Coker lacks the authority to fire an officer directly, he has worked with the mayor to fire several officers.
"I've investigated it and I've taken action when it's founded," he said. "I've had to arrest friends. I've had to arrest relatives. But exaggerated or false complaints don't help the community at all."
Coker said the police force has a good complaint process that successfully filters a person's personal biases from a legitimate grievance.
"Sometimes complaints are positive things and result in policy change," he said.
As of Monday, no complaints had been filed.
When asked what she hopes will happen to officer Scauflaire, Jennings responded, "I hope he gets a different profession."
---