Marylin Jane Clark Kenelty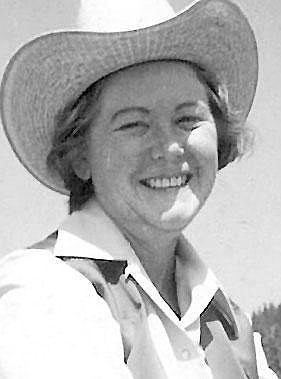 Marylin Jane Clark Kenelty
Marylin Jane Clark Kenelty passed away Tuesday, May 29, 2007, at her home in Libby, after two years battling colon cancer.
Marylin was born May 19, 1925, in Tuscola, Ill. to Keith and Alberta Scoggin Clark. She graduated from Champaign (Illinois) High School and attended the University of Illinois. She met her first husband, Donald Flynn, in Illinois, but moved to Montana where she has lived ever since.
In 1955, Marylin moved to Libby. Her husband, Bud Kolden, was killed in a logging accident the fall of 1962. She married Jerry Kenelty on March 20, 1965, in Coeur d' Alene, Idaho.
After her family and friends, Marylin's first love has been her horses. As a young person in Illinois she rode and showed English-style, but in Montana she became a true Westerner. Marylin and Jerry bought the Tom Boothman ranch on Farm to Market Road shortly after they married.
They raised cattle and Appaloosa horses. With the help and hard work of many friends, Marylin and Jerry brought professional rodeo to Libby as they hosted the B-J Ranch Rodeo for seven years. Marylin, along with Kayty Rice, personally mentored all of the young Rodeo Queen candidates in horsemanship and showmanship, even taking them to Spokane shopping and for appearances on TV.
After Marylin and Jerry sold the ranch (now the Amish settlement), they established and operated the Branding Iron Inn on Highway 2 East for 21 years. Even though they sold the Branding Iron 11 years ago, Marylin was still the secretary/treasurer of the Lincoln County Tavern Association at the time of her death.
Survivors include her husband, Gerald (Jerry) Kenelty, of Libby; her brother James S. Majors of San Antonio, Texas; three children, Donna Flynn Martin of Kalispell, Vicki Flynn Munson of Brinnon, Wash., and Bill Flynn of Libby; 12 grandchildren, 27 great-grandchildren, and one great-great grandson. She also leaves behind the many people whose lives she touched throughout her years in Libby, most of whom were like family.
Services will be Saturday at 2 p.m. at the Nelson & Vial Funeral Home Chapel with Rev. Donna Flynn Martin officiating. Interment services will be at the City of Libby Cemetery.
A reception will follow at the American Legion Club. The family is requesting donations to the Center for Asbestos Related Disease (CARD) Clinic, 214 East Third Street, Libby, MT 59923, in lieu of flowers. The CARD Clinic is a 501(c)(3) charitable organization.
---