Destructive storm downs Libby Drive-In Theatre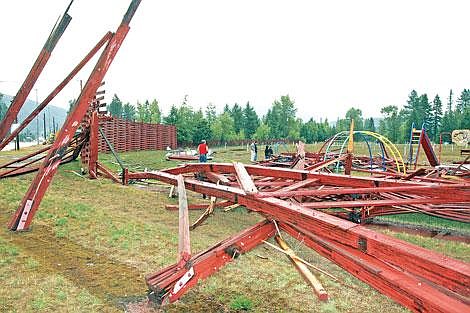 Destructive storm downs Libby Drive-In Theatre
By KYLE McCLELLAN The Western News
Nature provided Libby a day of reprieve Wednesday afternoon before continuing its atmospheric onslaught Wednesday night with a half hour of devastating winds and piercing rain.
"I don't think I've seen it this bad in the last three years that I've worked here," said meteorologist Victor Stegemiller at the National Weather Service in Missoula.
In Libby, tree limbs lay strewn across streets and yards, entire uprooted trees rested on top of houses, traffic lights were dead, power disappeared west of Rosauer's and, in one of the most visible and far reaching casualties of the storm, one of Montana's last remaining drive-in theaters was reduced to rubble.
Winds toppled the 60-foot theater screen into a children's playground area just an hour before showtime.
"Thank God it didn't happen an hour later," said theatre owner Bert Wilson, whose remaining two business properties include the Dome Theatre in Libby and the Lincoln Theater in Troy.
"It was crazy. We're pretty shook up about the whole thing," he said.
Wednesday night, Wilson was in the theatre's concession booth with his wife and daughter. They were preparing for the screening of "1408," a new Stephen King film.
"We were just trying to hold the water back. It was coming like ocean waves in the concessions," Wilson said.
They saw debris. His wife, Margee, looked up.
"The screen's gone," she said.
And with it went a 53-year cinematic staple of northwest Montana.
According to Western News archives, the theatre opened to the public on July 8, 1954, with 250 car speakers powered by a 140-watt dual channel for sound effects.
A Western News write-up from that year read, "The screen has a magnificent background in the Cabinet mountains which raise their high tops in the west, a scene as beautiful as any which will ever be thrown upon the screen itself."
Already Wednesday morning, Libbyites were pondering the future of the theatre.
It's too early for Wilson to know.
He and his brother, Eric, are working with insurance adjusters.
"It's going to be very expensive," Eric said. "Hopefully, we can get it rebuilt. It's a unique thing to have an old drive-in in Libby."
The Wilsons bought the theatre from Emelia Huber five years ago after 22 years of ownership by the Hubers. The theatre was renovated in 2003.
In Missoula, meteorologist Stegemiller said Wednesday that weather spotters reported winds speeds at up to 70 mph and less than half-an-inch of rain in Libby.
At one point, all of Flathead County lost power and a tornado was reported in Polson, Stegemiller said.
"We generally don't get storms this strong," he said.
---