Living life to the fullest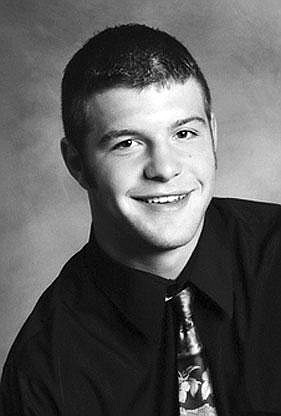 Living life to the fullest
Jake Graham's essay won a Kambel Scramble scholarship in 2006
By CAROL HOLOBOFF Western News Reporter
Jake Graham is a winner. He won one of the two 2006 Kambel Scramble scholarships for his essay describing what he would do if he only had one year left to live.
His hypothetical description of the last year of his life does not fall far from how he has always lived. Jake's list of accomplishments demonstrates his love for life. He has excelled in football, wrestling, track and band, as well as excelling academically. He has given to his community and his church through many hours of volunteer work.
Jake is a leader as shown in his volunteer leadership in Search, a program for youth at the Catholic Church. He is a worker and has twice helped with Habitat for Humanity and has had many paid positions throughout his busy high school years.
Jake wants to go to MSU-Northern in Havre to study biology with a long term goal of getting a master's degree in wildlife management. But more impressive is his personal goal to live in the Libby area "so I can be close to my family, and raise my children with the same values I was raised with."
Jake is a winner in more ways than one.
His essay:
When given the news that I only have one year to live my life, I would have many things to think about. After the initial shock, I would do a lot of soul searching to make sure I get my priorities in place. I believe the first thing I would do is continue my close relationship with my family. We are close, but I wouldn't take our time for granted. I would hug more, laugh more, listen more and spend way more time together. Our family says they love each other at least 3 times every day. I'd definitely double that, not only in words, but with my actions. I would sit down more often for family meals. I would schedule family pictures so my family and friends could have recent professional pictures to capture my last year. My video camera would also be filming a lot of important and fun moments.
My friends would also play a more important role in my life. I am not a judgmental person. I accept people for who they are and what they stand for. So I'd continue with those ideas. I would try to smile more, listen more, encourage more. I would hope that somehow I'd be remembered for how well I treated and encouraged people. I would hope that people could learn a lesson from me about life. I would want people, when they spoke of me at my funeral, to say: I was a good man. I made a difference. I was loyal, honest, hardworking, unselfish, dedicated, a friend, a son, a brother. I was kind, studious and a dedicated athlete. I would want my childhood memories of our crazy hikes, bridge and cliff jumping, hunting, fishing, skiing and camping stories to be retold, remembering how much fun we shared. My friends would say that in my short life I/we lived to the fullest.
A family trip would be nice. I'd invite all of my family and take one fun expensive trip. Probably Hawaii, so I could snorkel and spend time at the ocean gazing at the colorful marine life.
I'd also like to take one Alaskan hunting trip with my dad and my brother. Hopefully my dad and I can instill our values to my younger brother. It would also be a quality time to spend together with a passion we all value. My dream would be to get the largest moose and have it mounted and then give it to my brother. I would spend at least one month with my dog, duck hunting throughout the Central Fly Zone.
I'd hike the trails I haven't hiked in the Cabinet Mountains. I've been to most of them, but I'd hike at least five more places I haven't hiked. All my friends and family would be invited on any of the hikes. My dogs would always come too. Especially my hunting dogs.
In closing, I would like to think I've lived my life with passion and to the fullest. I have a good friend with Cerebral Palsy. I only need to think of him stuck in his wheel chair ever since he was born and if I'm feeling down or sorry for myself I snap out of a bad mood real quickly. Many people live with the idea that grass is always greener on the other side. They seem to be always looking for something better around the next corner. I say, "live for today, live for the moment." Life is so short, precious and beautiful. My glass is always half full. Look to the bright side of things. My final year would be one filled with family, friends and life.
---