Carla K. Kinkade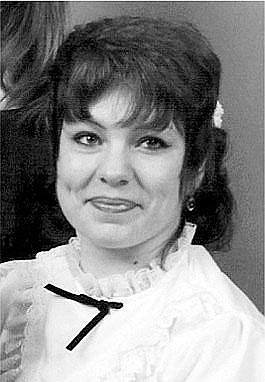 Carla K. Kinkade, 52, of Libby died July 11, 2007 at St. John's Lutheran Hospital from natural causes. She was born May 23, 1955 in Kalispell to Robert and Twila Wigle White.
She lived around Lakeside and Somers for five years and spent the rest of her childhood in Libby. She attended Culinary School in Kalispell. She worked as a waitress at the 4 B's in Libby for five years. She also worked for Libby Floral for 14 years. She enjoyed crafting, making jewelry and her grandchildren. Her family meant the world to her. Her parents preceded her in death.
Survivors include her husband Randy Kinkade of Libby; children Jenny Couture and Jon Couture both of Libby; Missy Couture of Missoula; grandchildren Dustin and Brittnay Osborn of Libby; Leighton and Kayrie Couture of Libby; Raynee Couture of Missoula; sister Rita Postlethwaite and her husband Robert of Libby; brothers Rocky White of Bozeman; and Andy White of Kalispell.
Services will be at 10 a.m. on Monday, July 16 at the Nelson & Vial Funeral Home. Burial will be at the City of Libby Cemetery.
---