Boppin' to Bluegrass by the river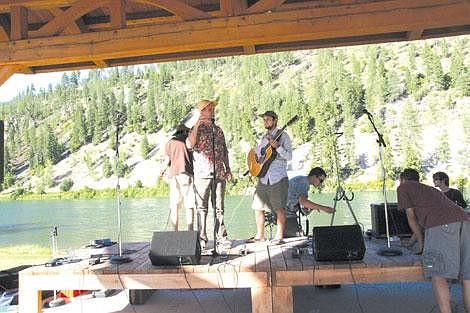 — Photo by Kyle McClellan
Kicken It On the Kootenai Bluegrass Festival organizers hope to make the event an annual affair
By CAROL HOLOBOFF Western News Reporter
The good 'ole summertime definitely came to Roosevelt Park in Troy on Sunday, July 8, with the bluegrass band Head for the Hills.
The band had just traveled from a concert in Ft. Collins, Colo. and put on a free Bluegrass concert for the community that was reminiscent of old times in city park pavilions.
Families gathered on blankets with cooler dinners and sack suppers. Babies gurgled and kids ran amuck among a crowd that mellowed as the music began.
The members of the Head for the Hills band hope the folks in Troy will be able to act on their plan for an annual Kicken It On the Kootenai Bluegrass Festival.
Troy seems to have the perfect setting for family oriented summer festivals. Roosevelt Park, with lush lawns, walking paths that are lighted with street lamps and graced with turnouts for meditation, also has playgrounds, wading pools and sprinklers, not to mention a panoramic scene of the bridge spanning the Kootenai River.
The City of Troy, Snicker's Original, the Troy Fine Arts Council, Wanda, Inc. and the Northwest Music Hot Club all welcome support from individuals wanting to help bring this project to fruition.
---