Harriet T. Wilson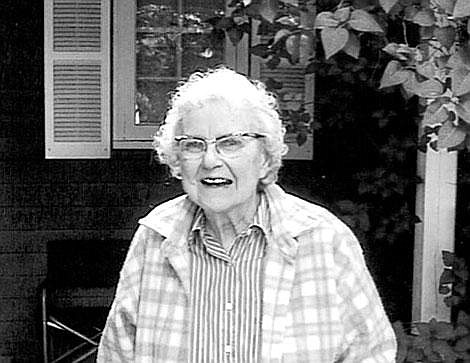 Harriet T. Wilson, 93, a resident of the Kootenai Valley for the past 57 years, died Sunday, July 8 at the Libby Care Center.
Harriet was born in Whitefish on Dec. 2, 1913 to Will Trippet and Florence (Atwater) Trippet. She graduated from Whitefish High School in 1932. She received a bachelor's degree in education from Eastern Washington University in Cheney, and returned to Montana to teach school in the Lost Prairie/Pleasant Valley area.
She married Robert Wilson on June 14, 1936 in Spokane. They lived in Seattle, Wash. and various places in Montana before coming to Libby in 1950.
Harriet returned to Eastern Washington University and received a degree in Library Science in 1973. She worked in the Libby public school system, teaching a remedial reading program at Libby Middle School as well as serving as librarian at Central Schools. A life long Girl Scout and Girl Scout leader, Harriet was honored last year by the Girl Scouts as one of its longest standing members.
She was known locally for her expertise in spinning and dying wool and was a frequent craft demonstrator of the spinning wheel at the Heritage Museum and had been a long-standing member of the Thursday Evening Craft Group.
She also served as a Sunday school teacher for many years while a member of the Methodist Church. Prior to the advent of the Libby Dam, she and her husband Bob had also led a church at Kennings. Harriet remained an active member of the Libby Assembly of God Church and also had been a member of Women's Aglow Fellowship. She also had been a member of Delta Kappa Gamma and had remained an avid reader, particularly of Montana history and non-fiction books.
She was preceded in death by her husband in 1971.
Harriet is survived by her children: Carol Wilson Cady and Bill of Libby; and John Wilson and Trish of Cordova, Alaska; grandchildren Amy Lynn Siefke, John Baenen, Kristi Wilson, Robin Kacsh, Mike Wilson and Shawn Stimson; and 12 great-grandchildren.
Services will be at 11 a.m. on Thursday, July, 12 at the Assembly of God Church with Pastor Kevin Lindgren officiating. Interment services will follow at the City of Libby Cemetery. Friends may call at the Nelson & Vial Funeral Home from 3-8 p.m. Wednesday.
---