Sen. Tester visits Libby, answers gamut of questions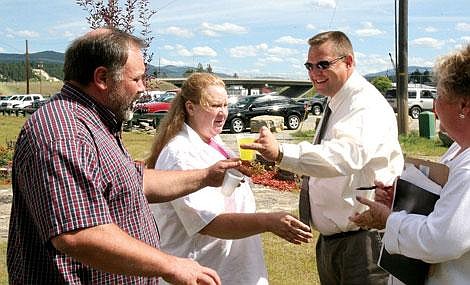 Sen. Tester visits Libby, answers gamut of questions
By KYLE McCLELLAN The Western News
Montana Sen. Jon Tester has stated that he hopes Montana will reside at the forefront of efforts designed to confront global warming, and much of his discussion with locals Saturday revolved around his support of the 2007 Energy Bill.
Tester addressed a curious crowd of about 30 people who peppered him with questions ranging from the latest divisive Supreme Court rulings to the state of health care, and from the oil industry to, of course, the war.
In a recent public update from Washington, Tester touted the energy bill's bio-fuels component, which he said will boost opportunities for Montana farmers.
Tester is also working to help the United States reduce carbon dioxide emissions by supporting efforts that will expand research into carbon capture and sequestration, which is the process of capturing carbon dioxide from large sources like power plants and then storing the gas underground or in the ocean where it can't contaminate the atmosphere.
He has attached an amendment to the energy bill that will pay for half the cost of carbon capture and sequestration equipment for coal and petroleum facilities.
Robyn King, who heads the Yaak Valley Forest Council and who also operates a small solar energy business, thanked Tester for his work on alternative energy.
"The energy bill is good because it pushes renewables out there," Tester said Saturday. "Stuff we can create in this state, whether it's energy from the forests or energy from the wind…"
Tester also touted geothermal energy sources in a recent Senate update.
He has cosponsored the National Geothermal Initiative Act of 2007, which sets the goal of having the U.S. draw 20 percent of its energy from geothermal sources by 2030. Geothermal sources include hot springs and heated rock beneath the earth's surface, sources that are plentiful beneath Montana and that, according to Tester, will help make Montana a national leader in domestic energy development.
Much of Tester's energy, and much of the Democrats' energy, for that matter, has recently been expended on attempts to bring American troops home from Iraq.
"Things are not going well over there," Tester said. "We need to do whatever we can do to get them home…"
---