Running for a cause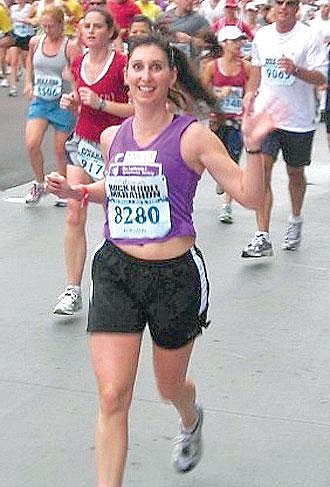 In honor of her father, former resident participates in marathon
By ERIKA KIRSCH Western News Editor
Libby native Stacia Rohrer said the last miles of marathons are the hardest.
"The last four miles were the most painful and miserable miles of my life," Stacia stated.
On June 3, she completed the Rock and Roll Marathon in 4 hours 17 minutes as a fundraiser for the Leukemia and Lymphoma Society. She was part of Team in Training, which trains athletes specifically for endurance events such as these. Training began six months prior to the race.
There were 150 people on her team, which was made up of walkers and runners, she said. Some participants were doing a half-marathon and others were doing the full 26.2 miles. Stacia was part of the latter group.
"I had run before, but I never ran a full marathon," she explained. "We were always an active family."
Stacia wasn't channeling her inner masochist for the event, she was raising money for a very worthy cause and a cause very close to her heart. Stacia's father, Dann Rohrer, was diagnosed with Non-Hodgkin's Lymphoma just after Thanksgiving. Dann endured six months of chemotherapy. Stacia's Team in Training jersey read "For Dann."
Dann, a teacher for the Libby School District for 29 years, was the girls basketball coach when Stacia was in school and also coached golf for several years, Stacia said. Dann was due to retire in a year, but then he got sick.
He came to visit Stacia in Seattle, where she currently lives, while she was training for the race and had breakfast with some of her team members after a training run.
On race day, Stacia and her team members were joined by over 21,000 runners and walkers all there to support the Leukemia and Lymphoma Society. With the help of many supporters and donations, Stacia raised $5,500 and her Washington/Alaska Team in Training Chapter raised $550,000. The national Team in Training raised $12.5 million for the cause, she said.
Along the route, mentors and coaches would cheer Stacia along "and jump in and run a couple miles. They would boost our spirits and tell us, 'if you think this is bad, try chemo,'" she said. "It was four hours of pain, but lots of people were going through more pain than me with
treatment and chemo."
One week after the marathon, Dann had a CT scan and doctors could not see a visible tumor, Stacia gushed. He will have to continue to keep an eye on his condition and have CT scans performed every couple months, Stacia added. But, all in all, things look good for Dann, Stacia said. He even went back to school to teach the last month before summer break.
"He'd never taken a sick day off, but he ended up using all his sick days for treatment," Stacia said.
Stacia expressed a deep gratitude for the community she grew up in.
"I opened my mailbox and everyday there would be letters from the [Libby] community with really positive notes and donations," Stacia said. "I just really want to thank the community."
---