Piano prodigy wows audience at Memorial Center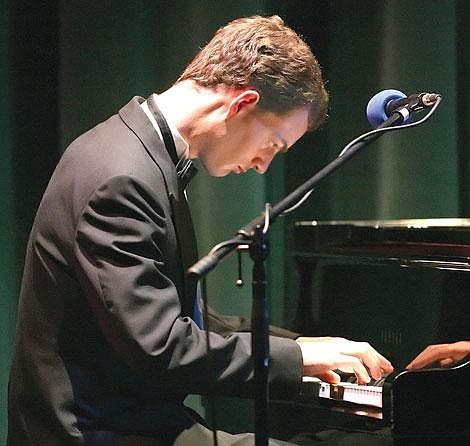 Piano prodigy wows audience at Memorial Center
By KYLE McCLELLAN The Western News
The latest acclaimed pianist to take the stage at the Memorial Center provided an alarmingly small audience with his skilled interpretations of five compositions from the Romantic and Classical eras.
Jason Paul Peterson, who is only 25 and has already been touted as a "national phenomenon" by the Milwaukee Journal, is heading to Germany to continue his studies on a Fulbright Scholarship.
The five compositions, which included an etude by Frederic Chopin, rhapsodies by Johannes Brahms and a sonata by Franz Haydn, were played without score accompaniment and, if any doubt remained with the 40 audience members in attendance that Peterson had solidified the music into his mental repertoire, it was erased during Peterson's second piece when the auditorium fell into blackness.
A Friday night windstorm — the same one that toppled trees in Troy and injured a hiker near Cedar Lake — cut the power in the memorial center.
The stage speaker emitted a loud boom and the lights died. But the Schubert Opus continued. And it continued with the same crisp key striking and the same flawless timing that Peterson had been displaying in clear view.
During the third composition, Peterson sat tall and responsive on his piano stool, his fingers sprinting the keyboard's span through the technical scales of Brahms' Rhapsody in B minor while his body reacted to its phrases.
Just as his audience was about to succumb to a Romantic-era trance induced by a pleasant flurry of light and continues scales, Peterson brought them back to reality by pounding the four distinct chords that would re-introduce the composition's theme.
Peterson ended the night with Isaac Albeniz's Iberia, Book I, which sent the audience off with the more exotic influences from the Classical Period echoing in their ears.
His interpretations of the Spanish composer's compositions were reminiscent of the signature guitar transcriptions that have so often transformed Albeniz's original piano works.
The final movement, El Corpus Christi en Seville, broke from the classical European sounds that dominated during the past hour and introduced the audience to a whimsical, march-like promenade by piano.
Peterson walked quickly off stage to thick applause and returned for the requisite encore that any four-time Chopin Foundation award recipient should expect to receive from any audience, no matter how small.
Peterson is a doctoral candidate at the Peabody Conservatory in Baltimore. He has performed solo at Carnegie Hall, in Vienna, London and countless other major American cities.
But the welcoming attitude of Libby's own is not lost on him, a point he was sure to mention during a post-concert interview.
"It's always important to keep the arts alive in small communities," he said.
Peterson, who discovered Libby while on the way to a concert in Spokane, Wash. has previously performed at Christ Lutheran Church in Libby.
---