Historic Olds draws Leno's interest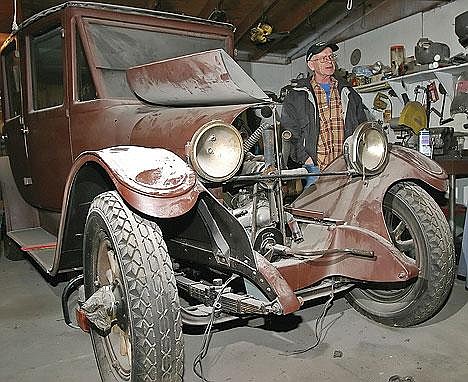 Libby's Fred Thompson stands next to his 1917 Oldsmobile Tourer. Emmy-award winning comedian Jay Leno has expressed an interest in buying the rare car. (Photo by Paul Sievers)
|
January 30, 2007 11:00 PM
By GWEN ALBERS Western News Reporter
Emmy-award winning comedian Jay Leno would like to buy a rare antique car from Libby's Fred Thompson.
Thompson says he isn't selling.
"He wants to look at it and I'm not even letting him look," said Thompson. "It ain't for sale."
Host of NBC's The Tonight Show, Leno learned about the 1917 Oldsmobile Tourer from Thompson's son, David.
David Thompson in his spare time builds Corvettes in McMinnville, Ore., for his boss. His boss knows Leno - an avid collector and restorer of cars and motorcycles.
What makes the car rare is its V-8 engine, the same motor once used in German airplanes.
"That didn't exist in 1917," said Thompson, a 65-year-old Champion retiree. "It was a test model for three years. But they were too powerful for the roads they had."
Supposedly, the few that were made were in the East. Thompson's is the only one that made it West.
"The story is that a movie actress made a movie in Priest Lake, Idaho, and they figure she left it there after she made the movie," Thompson said.
The Canadian-born actress, writer, producer and animal-trainer was Nell Shipman, who produced films in the Priest Lake area until the mid-1920s. She was best known for her portrayals of strong, adventurous women and created early action films that incorporated location shooting and nature themes.
In the late 1950s, Fred Thompson and his buddies found the car in a barn in the Priest Lake area. They paid $25 to $30 for it. Fred's dad, Gene Thompson forbade them from tearing it apart and gave the guys $150 for the car.
"He just always liked old cars and didn't want it to go to junk," Fred Thompson said.
Gene Thompson, who died this past Thanksgiving at 87, drove it in a couple parades in the Priest Lake area. When Gene and his late wife, Irene, moved to Libby in 1962, they brought the car with the. It sat in their garage until six years ago. The car was then moved to Fred Thompson's garage.
He continues to restore the car and plans to repaint it rose-gray. Fred Thompson has no idea how much the car cost new or its current value. An advertisement in Buzz Trader.com from two years ago advertised the same car for $100,000.
Assuming Leno would offer Fred Thompson $1 million for the car, he'd have to think about it.
"It has sentimental value," he said.
His wife wouldn't talk him into selling.
"It's his car," Merry Thompson said.
---