Newlyweds' message found after 3 1/2 years in a bottle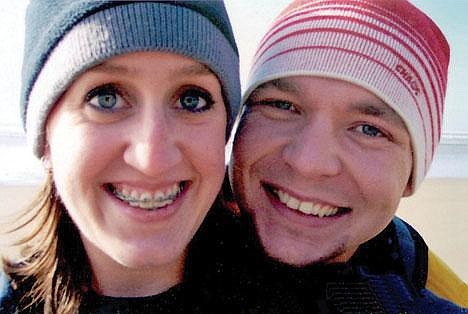 Former Libby residents Katie and Chris Nelson buried a bottle with a message during their honeymoon in 2003. A Canadian couple found it on Christmas Day.
|
January 23, 2007 11:00 PM
By GWEN ALBERS Western News Reporter
Former Libby residents Katie and Chris Nelson had forgotten about the wine bottle they buried 3 1/2 years ago while on their honeymoon in Cannon Beach, Ore.
Their memory was jogged after a soon-to-be-wed Canadian couple found the bottle and a message inside during a wicked storm on Christmas Day 2006. Sean Kirk, 43, and Traci Gervaism, 41, will now make that same bottle a part of their honeymoon when they marry on June 16.
"I think we'll spend a week at Cannon Beach," said Kirk, who lives in Vancouver, British Columbia. "We plan to go in a boat and throw it in the ocean."
The former Katie Pfeifer married high school sweetheart Chris Nelson on July 19, 2003, and headed for the Oregon coast. They liked drinking wine while watching sunsets on Cannon Beach.
"That was our nightly thing," said Katie, the daughter of Mary and Darryl Pfeifer of Libby. "We were full of life and it was our first time at the ocean."
One evening, while playing in the sand with their feet and drinking what was probably a Riesling from their favorite winery in Seattle, the newlyweds dug a hole. They found paper in their backpack and wrote: "Tuesday July 2003, 1,000 years good luck. Love the newlyweds. Libby, Montana, Married on July 19/2003, Love Katie and Chris."
"We just decided to put it in the bottle," Katie Nelson said. "I think we just did it for fun."
Then the couple, now both 24 and living in Spokane, Wash., where she is a dental hygienist and he is a student, forgot about it.
That changed over the recent holiday.
Kirk and his fiancee took the seven-hour drive to Cannon Beach to stay with friends in their ocean-front home. They found the bottle across from Haystack Rock - one of the most famous giant rock foundations along the Oregon coast.
"It was very, very stormy that day," Kirk said. "We were sitting inside looking at the waves and saw the bottle get washed up. It was really dangerous. The waves were hitting the break water."
Concerned the glass bottle would break and someone walking on the beach would get cut, he went to get the bottle against his fiancee's wishes.
"When I got out there and was running between the waves, I realized it had a cork," Kirk said. "It had a little note."
The story didn't surprise Chris Nelson's mother, Bobbi Nelson of Libby.
"We put bottles in the Kootenai River off and on throughout his childhood," she said. "He was a very adventurous and curious child. He always wrote a message."
They never got a response.
"We always thought they must've broke going over the falls or go hung up somewhere," she said.
---