Middle school art students paint 'Jungle Book' set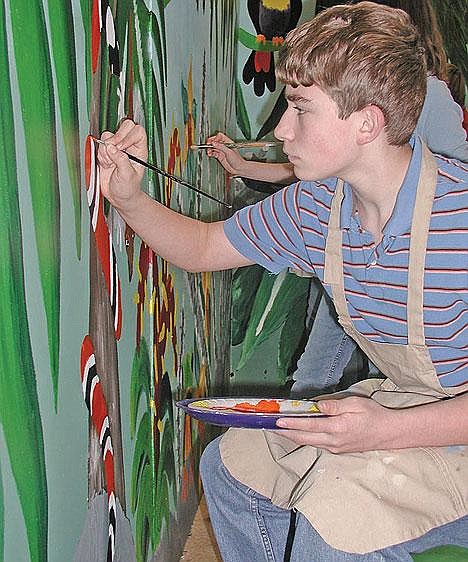 Libby Middle School student Konnor Basso paints the set for "The Jungle Book Kids."
|
January 18, 2007 11:00 PM
By GWEN ALBERS Western News Reporter
Seventh-grader Trisha Murray looks forward to seeing Libby Middle School's production of "The Jungle Book Kids."
That's because Trisha and several students in her art class painted the set, which will be moved to the Memorial Center for the production Thursday-Saturday, Feb. 8-10.
"I'll go to see how it turned out," she said.
Middle school art teacher Chrys Marchant got the students involved after she was asked to help with the set.
"These are students who are more interested in art," Marchant said. "I thought it would increase their skills since they had just learned an acrylic painting unit. This was the perfect thing."
Her son, Luke Marchant, a student at the University of Montana in Missoula, and Libby High School senior Sarah Andreasen designed the set over the Christmas holiday. LHS graduate Jordan Green, also a student at the University of Montana, helped with the painting.
Middle school students then spent about two weeks painting the set in the hallway for all to see.
Play director Brenda Swanson said they did "an incredible job."
"The sets in the past have been done mostly by adults," Swanson said. "This year's set has been amazing to watch develop and to see the kids working on it."
"It's wonderful how (Marchant) turned that into a learning experience for the kids," added the play's musical director, Diane Rewerts. "Musicals work because so many people help."
Marchant also is pleased with her students' work.
"I'm very happy with it," she said. "I like all the different colors and textures. We've been getting a lot of feedback from students and staff."
Others who helped were high school student Jetta Dunham, Kootenai Valley Christian School student Michael Moxley and middle school students Jacoba Bloom, Christain Crammer, Shane Comire, Jessica DeShazer, Tashina Kowalski, Dustin Mitchell, Brook Lafont, Konnor Basso, Makayla Bowe, Corey Chapman, Josiah Coker, Alexis Hageness, Courtney Hughes, James Nash, Logan Neubauer, Samantha Wilson, Alissa Buti, Myka Forster, Chase Hoyer, Tiffany Moreau, Andrew Peterson, Rebecka Turman, Natasha Stambaugh, Cole Erickson, Taylor Barton, Candace Hendrickson and Rachel Brothers.
The play begins at 7 p.m. Feb. 8 and 9 and 2 p.m. Feb. 10. For tickets, call the Memorial Center at 293-9643.
---