ConoverBond drops old school proposal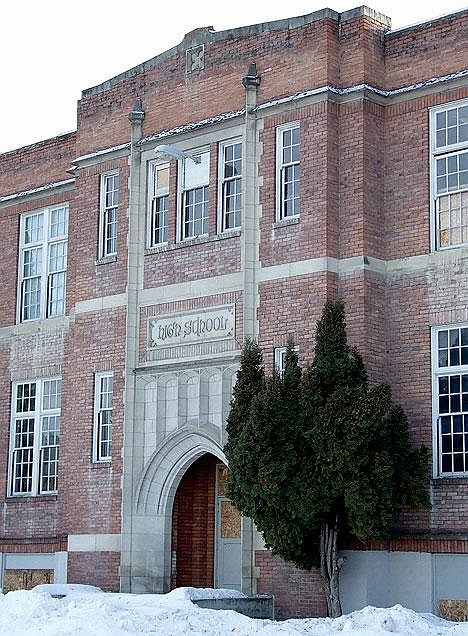 Spokane developer ConoverBond has abandoned a proposal to buy and renovate the old school building at the corner of Mineral Avenue and Lincoln Boulevard. A Kalispell developer may be interested in the project, however.
|
January 18, 2007 11:00 PM
By GWEN ALBERS Western News Reporter
A Spokane developer that for more than a year had talked about buying and renovating the old Libby High School has pulled out.
A Kalispell firm is now interested in buying the 90-year-old vacant Mineral Avenue building and beginning renovations this summer for offices, galleries and fine dining. Scott Holdings has been involved with similar projects, including one in downtown Kalispell.
"They're going to submit some sort of proposal," said Teri Kelly, chairwoman for Libby School Board.
In a Jan. 8 letter to district superintendent Kirby Maki, ConoverBond in Spokane indicated that in light of a recent appraisal of the building, it will not be worth doing the $2.5 million to $3 million renovation. A Missoula company that appraises historic buildings had determined the 1.7 acres occupied by the old Libby High School is worth $240,000.
Ryan Romaneski, director of new market development for ConoverBond, also indicated in his letter to Maki with increased construction costs, it would be best if this could be a project funded with private and public monies.
"Earlier discussions with the school board have indicated an unwillingness to undertake this kind of partnership," Romaneski wrote.
"We were never interested in becoming landlords and in real estate," Kelly said. "We rent space at McGrade, but that's good use of the building. Our job is to work on education."
McGrade Elementary on Farm to Market Road closed in 2003 and is used for social service offices.
Romaneski also noted that although many residents and school directors favored the project, support from Maki, the city of Libby and Lincoln County seemed to be lacking.
ConoverBond wanted to remodel the brick building for professional and government offices and had spoken to the city about moving its offices there.
"We wanted to be of support, but at our current location, we own the building," said Mayor Tony Berget. "We said we'd be interested in moving back downtown but would have to get something for this location."
The city building at 952 E. Spruce St. was donated by Champion and formerly housed that company's offices.
School board member Kate Huntsberger said she understands Scott Holdings does not plan to do a historical restoration of the high school.
"I don't know if it can be filled," Huntsberger said.
The board also discussed boarding up the building and letting it sit.
The school board had agreed to pay for the $10,000 appraisal if it turned down an offer from ConoverBond. Since ConoverBond backed out, the district will not have to pay for the appraisal and can still keep a copy, Kelly said.
---