New Year's baby born at St. John's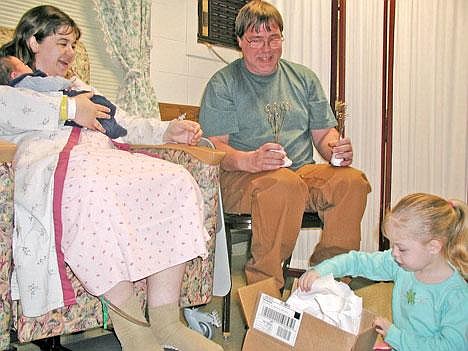 Emma, 3, opens a gift for her parents, Jennifer and Guy Johnson of Troy, who had the New Year's baby at St. John's Lutheran Hospital in Libby. Jennifer is holding her new son, Dayton William Lester Johnson, who was born Jan. 11.
|
January 17, 2007 11:00 PM
By GWEN ALBERS Western News Reporter
Jennifer and Guy Johnson never thought they'd have St. John Lutheran Hospital's first baby of 2007.
A fluke year made it possible.
For the first time in at least 10 years, the New Year's baby arrived later than ever. Dayton William Lester Johnson was born by cesarean at 8:37 a.m. Jan. 11 to the Troy couple. The 7-pound, 5 1/2-ounce infant was due on Jan. 18.
"I couldn't believe it," said Guy Johnson, a 44-year-old disabled veteran. "We found out earlier in the week that we might be the first ones, but we didn't think we would make it because it was already the 8th of January."
"It was so far into the month," added Jennifer Johnson, 29.
Traditionally the New Year's baby is born within the first week, said KC Hoyer, marketing manger for St. John's. In 2002 and 2004 the baby arrived on Jan. 1.
St. John's delivers about 100 babies annually, which means one every three to four days.
Libby's Rachel Bonderer and Vergil Duran had the last baby of 2006 - a boy at 3:46 a.m. Dec. 30. Twelve days later the Johnson baby arrived.
The anticipation had employees at the hospital talking.
"It's rare (to wait this long)," said Jackie Hare, vice president of nursing services for the hospital. "So it was exciting."
"Last week we had one in and out of the hospital with contractions," Hoyer added.
Dr. Jana Peters with help from Dr. Mike Mahoney delivered Dayton, who was born with a full head of dark hair.
This year the New Year's baby and his family were showered with gifts, which the baby's sister, Emma, 3, helped open.
Inspired by a vision of the late Roger Morris, publisher and editor of The Western News who died Sept. 21, 2006, St. John's set out to make the first baby a community celebration.
"Roger believed that it truly does take a village to raise a child and began planning a New Year's Baby Celebration with me in January 2006," Hoyer said. "We set out to make this an even bigger community celebration - one I hope grows in popularity and participation."
Gifts were provided by the hospital, Pamida, Libby Drug, Margaret Smith, a friend of the St. John's Lutheran Hospital Foundation and Space Labs.
---