Mayor: Construction booming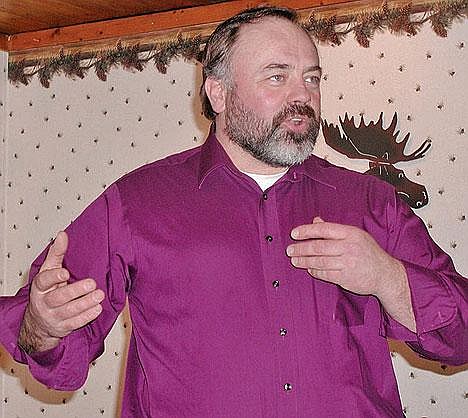 Mayor Tony Berget gives his "state of Libby address" during Wednesday's Libby Area Chamber of Commerce Luncheon at Beck's Cafe.
|
January 11, 2007 11:00 PM
By GWEN ALBERS Western News Reporter
The number of new homes being built in the city of Libby for 2007 has already surpassed the total for 2006.
Building permits for two new homes were issued in 2006. As of this Jan. 3, three had already been issued.
"I think the momentum is starting," Mayor Tony Berget said during Wednesday's Libby Area Chamber Commerce luncheon at Beck's Cafe. "For almost 20 years we didn't have a new hookup for the (sewer-treatment) plant."
As part of his annual "state of Libby address," Berget said a total of 47 building permits for $3.2 million in construction were issued in 2006. Of those, 21 permits were for residential improvements valued at $449,575. In addition to the two new homes, the rest were for additions and remodels.
The balance of the building permits was for commercial construction valued at $2.7 million. The biggest project was the new $1 million Lincoln County Community Health Center next to the Libby Senior Center slated to open early this year. The health center is currently located on California Avenue.
Berget also noted Libby is becoming more of a retirement community.
"I hate to see us as a bedroom community of Kalispell," he said. "I don't want 42 people at my fishing hole."
Berget also noted that in 2006:
l Of Lincoln County's 204 new septic systems, 56 were installed in the Libby area, 47 in the Troy area and 101 in the Eureka area.
l Flathead Electric had 38 new installations in the Libby area and 120 rebuilds and upgrades.
l 126 homes were sold in Libby and 41 in Troy.
l Homes in Libby ranged from $47,000 to $800,000. A house that used to sell for $30,000 is now $70,000.
l Homes in Troy ranged from $59,900 to $2.9 million.
l Currently there are 40 homes for sale in Libby and 32 in Troy.
"If you're looking for a $100,000 house, there's not much inventory," Berget said.
As for maintenance in Libby in 2006, he noted that 20 tons of winter patching material were shoveled into potholes. Another 200 tons of cold mix were used for summer repairs.
Twenty dump-truck loads of large rocks were placed on the bank at Riverfront Park. Also, 400 feet of barriers were built and underground sprinklers were installed at the same park.
Another 2,000 feet of water mains were replaced.
---