Too-friendly moose no longer loose in Libby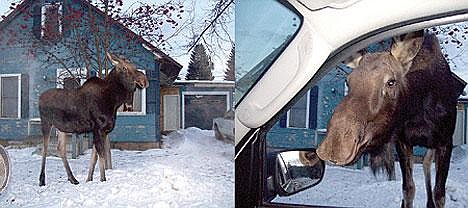 A young cow moose wanders through a yard in a Libby neighborhood - then saunters over to a car window to get a closer look at the photographer taking her picture. (Photos by Teri Kelly)
|
January 9, 2007 11:00 PM
By GWEN ALBERS Western News Reporter
The young female moose that became a regular in Libby neighborhoods has been returned to the wild.
With help from Libby Police Department and Lincoln County Sheriff's Office, Montana Fish Wildlife and Parks on Dec. 30 tranquilized the animal affectionately known as "Lucy the Moosey." The 600- to 700-pound moose was loaded in a horse trailer and released in the Fisher River area.
"We had enough complaints and it hadn't moved out of town on its own like we had hoped," said Jon Obst, a game warden in the Troy and Libby areas for FWP.
"This moose wasn't afraid of people at all and we thought it would be a safe thing to get it out of town," added Steve Magone, also a game warden with FWP. "It really didn't belong in town."
Working with FWP biologist Jerry Brown, Magone and Obst agreed it would be best to get the moose out of town.
FWP for two weeks had received telephone calls from residents about the moose in the area of Nevada, Idaho, Main, Montana and Louisiana avenues. She also was spotted in the Rosauers parking lot.
Game officials assumed it was the moose's first year on her own and that she came to Libby looking for chow. Traditionally, when a moose wanders into town, it doesn't stay long. Lucy, however, over-extended her stay.
"I was out looking for the moose and talked to a guy who had said he was on his back porch and somehow the moose happened to be right by his porch. It surprised him," Magone said. "When the moose raised up its head (it nudged the man). I don't know if it was intentional."
FWP used a tranquilizer gun to put the moose down. After being hit, she ran two to three blocks before going down near Pioneer Park, Magone said.
"It laid down in a back yard and we knocked on the door to tell them they had a moose in the backyard," he said. "The kids were looking out back."
The city plowed the road to get the trailer to the moose.
The moose was given an ear tag and loaded into the trailer.
"We hauled it up to the Fisher, where it woke up and took off," Obst said.
---