Nordicfest to be princeless for first time in 23-year history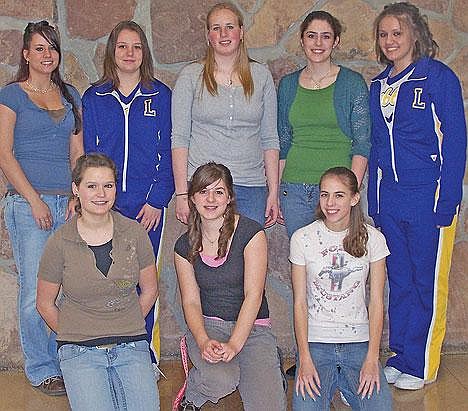 Nordicfest Princess candidates, from left, in front are Autumn Vinion, Riley Dinning and Shantell McLinden and in back Suzanne Loudan, Christina Anderson-Mason, Katie Horelick, Alyssa Sweeney and Katie Curtiss. Kira Lee and Lorraine Zamzow are not pictured..
|
February 20, 2007 11:00 PM
By GWEN ALBERS Western News Reporter
For the first time in the 23-year history of Libby's Nordicfest, there will be no Nordicfest prince.
That's because none of Libby High School's boys from the junior class applied for the $750 scholarship program.
Instead, there will another first.
During Saturday's, Feb. 24, Nordicfest Coronation Dinner, co-princesses will be crowned. Ten Libby junior girls applied.
"I wasn't surprised," said Nordicfest board member Barb Desch. "We don't have a lot of guys apply for prince so I figured eventually we would have a class that just wouldn't have someone that wanted it. It's really strange because it's a good scholarship."
The Nordicfest committee mailed applications to every LHS junior. The prince and princess each receive the scholarship upon graduation.
The junior royalty promotes Nordicfest, which will be held Sept. 7-9 to celebrate the area's Scandinavian heritage with music, food and cultural events. The 2006 Prince Mike Shilling and Princess Lacey Rasmusson participated in parades during festivals outside Libby, and during Nordicfest for opening ceremonies, the bunad procession and parade.
Royalty chairwoman Jan Erickson was surprised at the lack of interest among boys.
"You kind of feel a little stumped," Erickson said.
The prince and princess wear traditional Norwegian garb at events. That could have discouraged the boys, Desch said.
"They don't have to wear knickers," she said. "All they have to wear is nice pants. We usually ask them to wear black dress pants with a vest and shirt. Some of the boys might not realize that."
Erickson was pleased with the girls who applied.
"We were so delighted at this year's young women. They're exceptional," she said.
The board agreed co-princesses would be appropriate.
"It's always nicer if you have someone your age going to parades instead of being around a bunch of adults," Desch said.
Candidates include Suzanne Marie Loudon, the daughter of Mary Beth and Larry Stroklund; Alyssa Sweeney, the daughter of Diana Sweeney; Christina Anderson-Mason, the daughter of Mike and Julie Mason; Katie Curtiss, the daughter of Cynthia and Mort Curtiss; and Kira Lee, the daughter of Kim and Cyrus Lee.
Also seeking the title are Autumn Vinion, the daughter of Richelle and Patrick Vinion; Riley Dinning, the daughter of Sarah and Jay Dinning; Lorraine Zamzow, the daughter of Cynthia and Rickey Zamzow; Shantell McLinden, the daughter of Sue Carpenter; and Katie Horelick, the daughter of Tom and Susan Horelick.
The committee interviewed candidates last week. Members look for good poise and personality, good grades and extra-curricular activities.
Wednesday, Feb. 21, is the last day to buy tickets for the coronation dinner in the Ponderosa Room at City Hall. Doors open at 5:30 p.m. with dinner served at 6:30. Tickets are $25 or $125 for sponsors. Sponsors receive two dinner tickets, and will be recognized in the program and participate in a raffle.
Other Nordicfest royalty and Kootenai Knute for 2007 will be announced. Past royalty also will be recognized.
For tickets call Barb Desch at 293-7000 during the day or 293-6430 in the evening.
---