Libby's P.J. Morrison ends professional rodeo career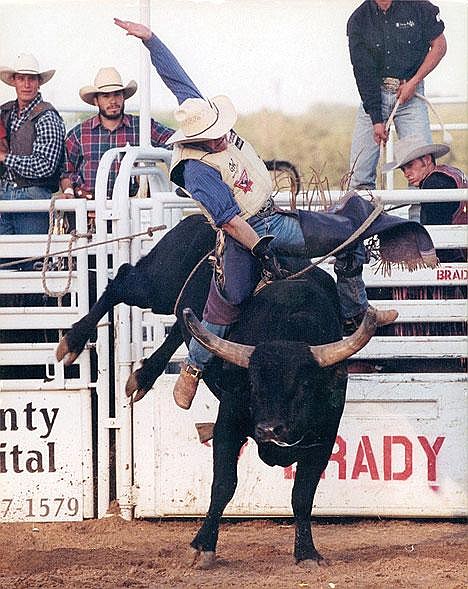 Libby's P.J. Morrison rides a bull in this Western News file photo. Morrison, 35, over the weekend announced his professional bull riding retirement and went on to win the 31st Annual Northern Rodeo Association Finals in Billings.
|
February 20, 2007 11:00 PM
By GWEN ALBERS Western News Reporter
Libby's P.J. Morrison ended his professional bull-riding career in a bittersweet way Sunday.
After announcing his retirement at the beginning of the three-day 31st Annual Northern Rodeo Association Finals at MetraPark Arena in Billings, Morrison won the bull riding finals.
"It was pretty emotional," he said. "I'm gonna miss it."
With his wife, Liz, and children, Katlyn and Zack, in the stands, Morrison, 35, won the first round on Friday night with 85.5 points after remaining on the bull "Johnny Rotten" for the maximum eight seconds.
"I was supposed to have a really good bull on Saturday, but the bull got injured in the pen during the day," he said. "So I had a different bull - Repeater - that bucked me off in seconds."
Morrison got no score.
On Sunday night, Morrison tied for second with Luke Knaff of Winston, both with 78.5 points.
Morrison's Friday and Sunday night scores combined allowed him to win the finals.
"When I got off the bull, I got off on in a bad spot," Morrison said about his Sunday ride. "He hooked me underneath the arm with his horn. If I went to stand up, he would've got me, so I seen this hole in the fence and crawled underneath like a gopher."
The finals in Billings is one of the largest regional rodeo associations in the nation. NRF pays out nearly $60,000 in cash and prizes, and the event features only the top 10 money winners in each of the eight rodeo events competing on top livestock.
Morrison began bull riding at age 5. At 19, he got his professional rodeo card and began competing for a career. He traveled to Brazil three times, Guatemala and throughout Canada and the United States.
In 2004, Morrison was ranked 15th in the world. He participated in Xtreme Bulls in Reno, Nev., where he was bucked off in the semi-finals. In Houston, he was bucked off in the semi-finals and in the finals. In Clovis, N.M., Morrison was bucked in the semi-finals
As an amateur the Libby High School standout wrestler was a top 10 bull rider in the NIRA Big Sky Region in 1991 and qualified for the Northern Rodeo Association Finals Rodeo in 2001-03.
---