Basketball dad arrested for punching coach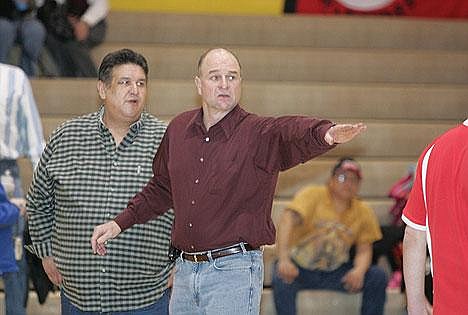 Libby High School Principal Rik Rewerts intervenes after Arlee basketball parent Francis Pierre, left, punched the Arlee coach. (Photo by Paul Sievers)
|
February 20, 2007 11:00 PM
By GWEN ALBERS Western News Reporter
Police arrested a parent from Arlee for hitting his son's coach in the head during the District 8-B boys' basketball tournament in Libby.
Parent Francis Pierre, 50, said Monday the punch was partly his reaction to what he perceived as a verbal attack by the coach against his son during Arlee's 63-60 loss to Superior. Pierre said the coach used "foul, cursing and naughty language" toward his son.
Arlee coach Brandon Hobbs denied the accusation.
"Through the game, he (Pierre's son, Richard) was being negative on the bench," Hobbs said. He was pretty much staring me down and giving me nasty looks throughout the weekend. I had enough and told him if he didn't want to be on the bench, he could go to the locker room or go home. I never swore at him."
Libby police charged Pierre with disorderly conduct and assaulting a sports official, said Chief Clay Coker. Both are misdemeanors.
Pierre was released from the Lincoln County jail after posting bond, Coker said.
Doctors at St. John's Lutheran Hospital closed a cut near Hobbs' ear with two staples.
Hobbs, 27, said Monday he was sore and his jaw remained swollen. He was thinking about getting X-rays.
The first-year head coach said that after Superior defeated Arlee on Friday evening, thus eliminating Arlee's hopes for the state tournament, Pierre and his son cornered him in a hallway.
"He didn't even say a single word to me," Hobbs said. "I put my head down to kind of go around him."
That's when Pierre punched him.
Francis Pierre said he witnessed Hobbs "waving his arms around" at his son during the game.
"After the game, I got my son's clothes and his gym bag, and we were walking to the locker room. I stopped my son and asked him what he (Hobbs) was saying," Pierre said. "That's when he came through the door and he pushes me, and I think as a reaction, I ended up hitting him."
Hobbs said Pierre regularly attends practices and games.
"He's really involved with his son and always has been concerned about his son's playing time," Hobbs said.
Pierre's son plays junior varsity for Arlee, and traveled with the varsity team to Libby for the four-day district tournament.
Libby High School principal Rik Rewerts, who was nearby and intervened, expects additional discipline against Pierre.
"The Arlee athletic director will try to get a restraining order to keep him from attending any more athletic competitions," Rewerts said. "In my opinion, this gentleman should not be able to attend athletic events in Montana."
Rewerts said it was the worst display of sportsmanship he has seen during his 28 years as a high school educator. He said 500 to 800 people were in the gym at the time.
"I've been involved with a lot of bad ones," he said. "This was the worst that I've seen. The fact that a physical blow transpired and it was taken out in front of the crowd. Little kids and everyone saw it."
"Parents tend to lose sight of right and wrong during sports events," he continued. "Sports tend to bring out the best and worst of people involved."
Overall, Rewerts was pleased with the girls' and boys' tournament.
"This was the one negative thing," he said. "We got numerous comments from fans and coaches from other towns and how much they enjoyed coming to Libby."
More than $8,000 was made from ticket sales. Most of the money goes to referees and the balance to participating schools, which also include Troy, Plains, Thompson Falls and St. Ignatius.
---