One-room tradition alive at Sylvanite School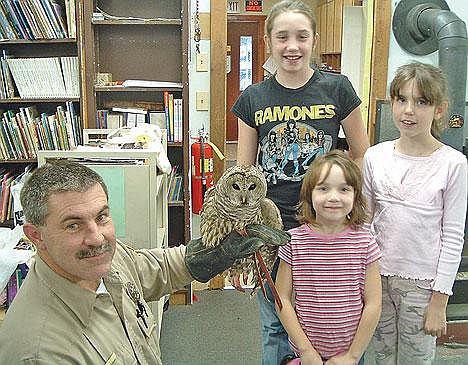 Jon Obst, a game warden with Montana Fish Wildlife and Parks in Libby and Troy, shares an injured owl with Sylvanite School students Keeley Holder, front, and Keeley's sisters, Jolee, back left, and Jordan. The Holders are the one-room school's only students.
|
February 15, 2007 11:00 PM
By GWEN ALBERS Western News Reporter
Sisters Jolee, Jordan and Keeley Holder aren't the same age, yet they share the same classroom, teacher, lunch hour and recess.
They also share nearly perfect grades.
Since beginning classes in August as Sylvanite School's only students, the Holder girls have gone from average students to straight "A" students. During the recent grading period, seventh-grader Jolee earned a 3.94 grade-point average; fourth-grader Jordan, a 3.92; and first-grader Keeley, a 3.99.
"It's like going to a private school without the expense," said their mother, Jean Holder, who drives 88 miles daily to get the girls to and from school.
"Unless they're dying they want to go to school," she said.
Jean Holder and her husband, Jeff, are pleased with the girls' education thus far and hope to send them to Sylvanite on Yaak River Road again next year.
Also, by enrolling their daughters two days before the start of this school year, the Holders kept one of Montana's oldest schools from closing and saved teacher Susan Kretzschmar's job. The 110-year-old, one-room school faced going non-operational after its only student graduated last May.
The Holders were living in a camper near the school last August when they heard it would close without any new students. They now live in Moyie Springs, Idaho.
Because Sylvanite is a public school open to students in kindergarten through eighth grade, parents outside the district do not have to pay tuition to send their student there. They do have to transport their children to school.
Jeff Holder's job as a helicopter logger means a nomadic lifestyle, which helped the girls adapt to their new school. The family has lived in New Mexico, Oregon, Idaho, Washington, Colorado and throughout Montana.
The girls last year went to school in Florence, Ore., where they had about 200 students in each grade. It's something they don't miss, for the most part.
"You get a lot more attention than a regular school," Jordan said. "Mrs. Kretzschmar nails things down."
With so few students, it's easier for Kretzschmar to keep tabs on them.
"The teacher in a one-room schoolhouse can day-to-day, hour-to-hour, minute-to-minute work with and monitor each student," she said. "We are small and flexible enough to provide extra special programs you can't get in larger schools."
Jolee had no problem with going to Sylvanite.
"I thought I'd want to be with my sisters," she said. "My great-grandmother always talked about going to a one-room schoolhouse."
Jean Holder appreciates that Jolee no longer struggles with math, that Jordan likes to read more and that little Keeley is just really smart.
The Holder girls once a week go to McCormick, a one-room school 14 miles away, for music. This gives them the chance to interact with other children. They've gone to libraries, bowling and roller skating with the students from McCormick.
Two local woman also go to Sylvanite to work with the girls. Jan Fontaine teaches the girls sewing and Joleen Calvi teaches art.
As long as students and money are available, Sylvanite will remain open, said school board member Mary Ellen Solem.
"We were on pins and needles all last summer," Solem said.
---